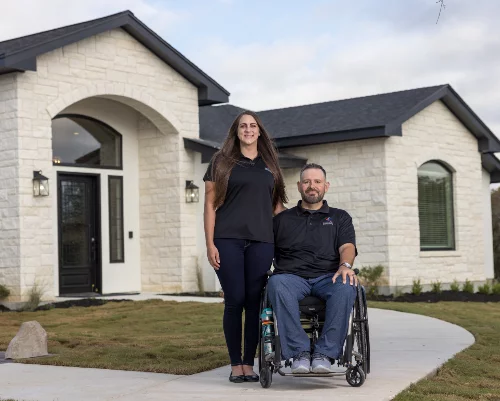 NSI completes 40th R.I.S.E. home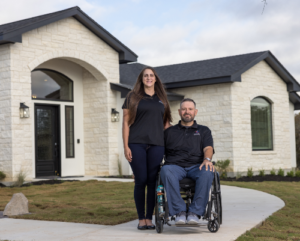 Oberlin, Ohio – The Natural Stone Institute (NSI) has partnered with the Gary Sinise Foundation to provide stone and fabrication services for its 40th home through its Restoring Independence Supporting Empowerment (RISE) program. The RISE program builds 100% mortgage-free custom smart homes for critically injured veterans and first responders. Natural stone and fabrication for US Army Sergeant Jason Tabansky and his family in Texas were supplied by Triton Stone Group, TexaStone Quarries and Unique Countertops.
On September 19, 2015, after a routine demonstration of a new Chinook helicopter in London, England, retired US Army sergeant Jason Tabansky was climbing from the plane when he slipped and fell, injuring his right shoulder. After multiple visits to the emergency room at St. Thomas Hospital, Tabansky was sent away with drugs to ease the pain. Days later, Tabansky said he woke up in the middle of the night as his body slowly went numb and within hours he was paralyzed from the chest down, including both his hands.
While recovering at Walter Reed Hospital in Bethesda, Massachusetts, he said he had seen soldiers with unimaginable injuries conquer the world, with a positive attitude without being hindered by their current circumstances. With that vision, Tabansky said he was ready to take a second chance at life and teach those around him to be the best advocate for themselves.
Since his injury in 2015, Tabansky has become an avid hunter, fisherman, competitive archer and bassist for his church. He has regained control of his hands through physical therapy and is currently a spinal cord injury without control of his trunk. Tabansky now coaches and works with children in hopes of earning a degree in education.
According to NSI, a specially adapted smart home will not only ease his daily struggles and mobility needs in the home, but it will also allow him to spend more time with his wife and their future aspirations of starting a family.