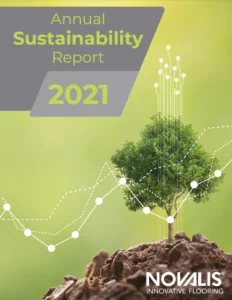 Novalis releases 2021 Sustainability Report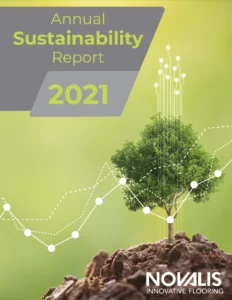 Dalton-Novalis Innovative Flooring has released its 2021 Sustainability Report, an important milestone in the manufacturer's ongoing mission to create products that keep people healthy and the earth habitable. The report outlines Novalis' commitment to responsible manufacturing and highlights the sustainability initiatives the company says it has implemented in its products and global operations.
"There is no longer a consumer push for products and companies with sustainable practices, but an expectation of overall responsibility and we totally agreed," said John Wu, CEO of Novalis. "Our customers expect us to not only be sustainable in the way we impact the planet with our products, but also to be sustainable in our manufacturing processes, to be socially responsible and to be transparent about what goes into our products. Novalis is a company based on sustainable practices and it is just as important to us today as it was over 35 years ago when the company was founded."
According to the company, highlights from the Novalis 2020 Sustainability Report include:
From 2019 to 2021, we almost doubled the amount of recycled scrap in our production process. Both manufacturing facilities in the US and China recycle scrap and reprocess it into finished products, reducing the amount of waste we send to landfill and reducing our resource consumption by 20%.
While our total energy consumption in 2021 was higher following the 2020 shutdowns and production declines due to COVID-19, our energy consumption per pound of finished product continued to decline, from 0.3289 kWh in 2020 to 0.3237 kWh in 2021.
Despite higher production and rising outside temperatures, our water consumption per pound of finished product has generally decreased.
In anticipation of the ongoing European Union Green Deal, we are developing Digital Product Passports (DPPs) for commercial AVA products. A DPP provides useful product-specific information in a user-friendly format. Accessible by scanning a QR code on the back of a plank or tile, the passport helps users identify product makeup and end-of-life options so it can be recycled properly. Our DPPs are on track for a 2023 release, one year ahead of the EU 2024 deadline.
We are assessing our waste streams at our production facility in Dalton to divert our waste from landfill and plan to achieve zero landfill certification by 2024.
The full report can be found here.