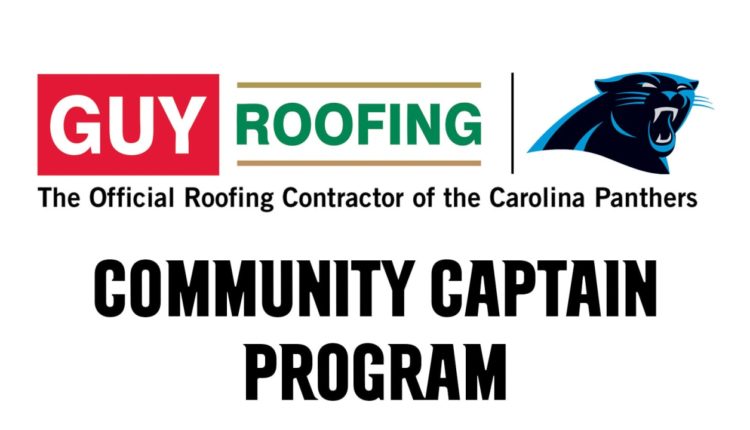 Nominations are now open for Guy Roofing Community Captain program
CHARLOTTE – The Carolina Panthers and Guy Roofing announced that nominations are now open to the fifth annual High School Community Captains Awards, a program that recognizes the leadership of ten exemplary high school students in North and South Carolina.
The program recognizes outstanding high school student athletes in North and South Carolina who excel in their sports, in the classroom and in their communities.
"The Community Captains program is a rewarding way for us to showcase hardworking, motivated, compassionate students who have done their job — on the field, in the classroom and in their communities," said Jeff Guy, vice president by Guy Roofing. "To celebrate their achievements and honor them alongside the Carolina Panthers is a powerful reminder that, through hard work and dedication, anything is possible."
"The Carolina Panthers are excited to partner with Guy Roofing on the High School Community Captain program," said Riley Fields, Panthers Director of Community Relations. "The impact these outstanding student-athletes have made in the classroom, on the field and in their communities sets a standard for others to follow. We are honored to recognize the many contributions they make to their communities."
Male candidates must be high school soccer players while female candidates must have competed in a varsity sport.
Nominations are now accepted through September 15, 2021. See the nomination form below.
Winners will be recognized at a special in-game ceremony during Carolina's Week 9 home game against the New England Patriots on November 7, 2021. The winners will receive a $500 scholarship to their high school athletic divisions.