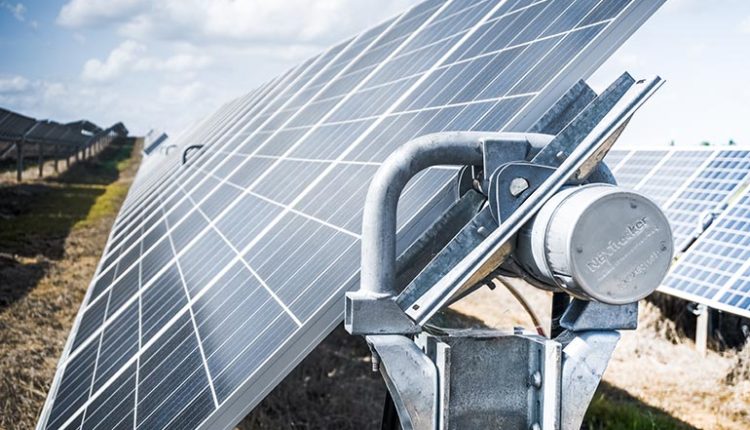 Nextracker supplying trackers for 1.5-GW Arevon solar project portfolio
Renewable Developer Arevon energy plans to use Nextracker single-axis trackers in its 1.5 GW portfolio of solar projects in Indiana and Nevada. Nexttracker will supply NX Horizon solar trackers with associated proprietary software and control systems.
Indiana will house five of these solar power plants: Elliott (200 MW), Gibson (280 MW), Ratts 1 and Ratts 2 (both 150 MW), and Posey (300 MW). The 250 MW Citadel project will be located outside of Reno, Nevada.
US Secretary of Energy Jennifer M. Granholm and Representative Susie Lee recently toured the seventh site in the portfolio, the 232 MW Townsite plant in Boulder City, Nevada.
"We are excited to partner with Nextracker and leverage their state-of-the-art technology in this latest portfolio of solar projects," said Justin Johnson, Executive VP and COO of Arevon. "Nexttracker was our first choice to standardize construction practices across the portfolio and create efficiencies and greater cost savings."
Data from the Solar Energy Industries Association (SEIA) projects nearly 5 GW of solar power will be installed in Indiana over the next five years, ranking the state's pipeline as the sixth largest in the country. SEIA estimates that Nevada, which ranks seventh, will install more than 4 GW during the same period.
These seven projects totaling more than 1.5 GW will be critical to helping these two states meet their renewable energy targets. They are all expected to be operational by the end of 2023.
"Advanced asset managers and property developers like Arevon know the importance of standardizing their utility-scale solar projects with advanced data monitoring and optimization software," said Ryan Booth, VP of utility sales at Nexttracker. "Our partnership with Arevon demonstrates how the future of solar power development will use system standardization to improve project value in an increasingly competitive industry."
News item from Nexttracker