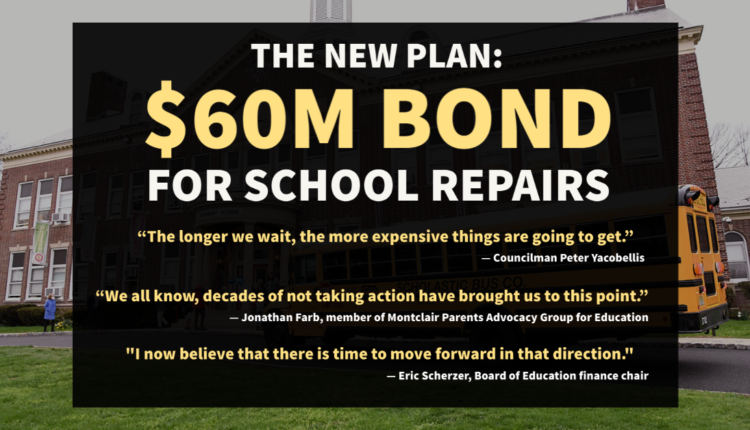 New plan: Full speed ahead with a $60M Montclair schools bond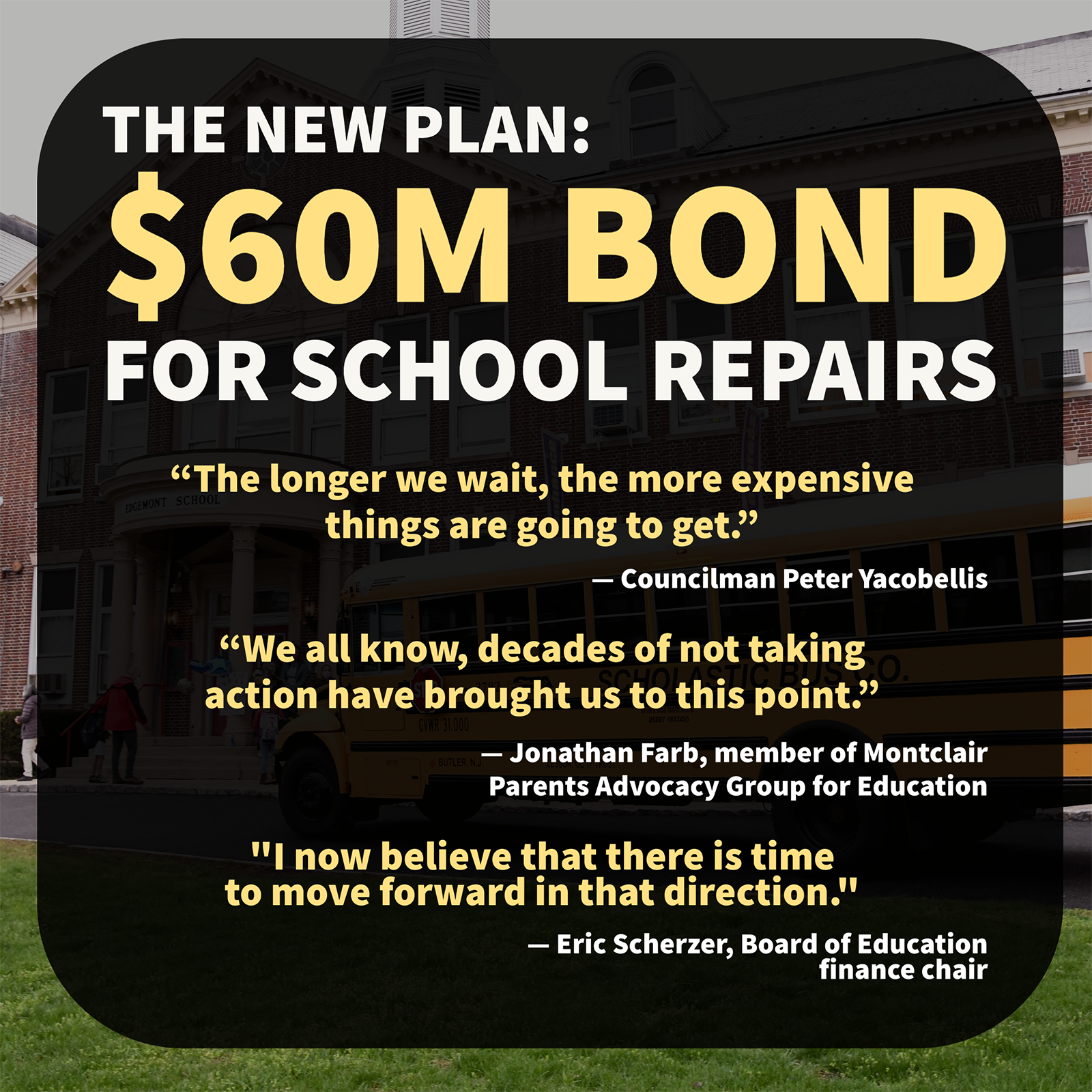 By TALIA WIENER
wiener@montclairlocal.news
Montclair School officials plan to move forward with nearly $60 million in major facilities work — just weeks after saying they couldn't begin the process for a capital improvement bond of only a fraction of that size.
On July 26, Montclair Board of Education members said there wouldn't be enough time to pay for $17 million in facility updates, primarily for outdated, broken or absent ventilation systems that played a key role in the drama over if and when students and staff would last. return to schools for the school year. On the agenda was an impending referendum in November that could change the entire capital improvement process in the district.
But Monday night, the board went ahead with a more ambitious plan and passed a resolution to commit $57 million in building upgrades identified this spring in a long-term facilities plan — $60 million, taking into account the costs associated with the bond issuance. That begins to roll the process forward, to send the matter to Montclair's Board of School Estimate, and then finally to the Township Council for approval.
Chair financial committee school board Eric scherzer said at its July meeting that the board would not proceed with $1 million in design work for a $17 million HVAC project.
Scherzer said on Monday evening that things were "not as clear" as he thought they were at that July meeting and that he had to "correct something".
"At the last Board of Education meeting, I reported that the information I had at the time was that there was not enough time for us to move forward with our proposal for capital funding to the Board of School Estimate and have it approved by November. get," he said. "I've had other sources of information since then, and while the timing is tight, I now believe there's time to move in that direction."
Montclair has what is known as a Type I school district – where the mayor appoints the members of the school board and the Board of School Estimate sets the tax rate and budget. The BoSE also approves funding for capital improvements before sending it to the board.
In the November referendum, voters will decide whether Montclair should immediately become a Type II district. That would create an elected school board, dissolve the Board of School Estimate, and submit bonds for capital projects to voters through referendums.
Scherzer did not respond to a voicemail and questions sent to his district address Tuesday regarding details of the proposal. But the costs are taken directly from a May 17 long-term facility plan by engineers EI Associates. The plan covers many categories of work — interior, plumbing, electrical, and more — but the largest component is HVAC, priced at more than $38 million.
The board received feedback from community members after the last meeting who offered insights on ways to move forward, board vice chair Priscilla Church said during Monday's meeting.
"We've decided that we're going to put all our cards on the table, and we're going to continue with this," Church said. "Despite what, you know, we as a community face in November."
Councilor Peter Yacobellis, who had argued in messages to voters and… interviews with Montclair Local for the issuance of a capital project bond ahead of the November vote, said he believed the Board of School Estimate could give its approval and bring the matter to the board sometime in September — "and hopefully possibly [the council would approve a bond] mid-October with plenty of time in the regular schedule."
If necessary, he said, the council could schedule an emergency meeting to approve a bond earlier. Moving quickly will be more cost-effective, Yacobellis said.
"These things were quoted months ago, and raw materials and work delays, and all these things happening at the macro level, are increasing construction costs," he said. "The longer we wait, the more expensive things get."
School Superintendent Jonathan Ponds said during Monday's meeting that he is "enthusiastic about the commitment to improve our facilities" and has been in talks with officials from the Board of School Estimate.
Ponds had not yet responded to inquiries sent to his district address Tuesday afternoon about details of the renovations. Messages to school board president Latifah Jannah and Church Tuesday were also not returned.
Deputy Mayor Bill Hurlock, who served nine years on the Board of School Estimate and currently serves as its chairman, previously told Montclair Local that he thought approving a bond before November was "unrealistic for a whole host of reasons." His mobile number was found to be unable to accept voice messages on Tuesday and an email to him had not returned. Fellow Township Council and BoSE members Robin Schlager and Lori Price Abrams also failed to return emails.
If the bond is approved by the Township Council, it will still be difficult to pin down an exact timetable for renovations, Yacobellis said. All construction projects in school districts must be approved by the New Jersey Department of Education before they can begin, but that approval could come after the bonding process, he said.
"Let's borrow the money, hire the people, get the supplies and go for it," Yacobellis said.
Ponds said on Monday that Phase I of the district's renovation will be completed in November. School officials had described the plan for $17 million in work as Phase II.
The condition of HVAC in Montclair schools has long been a concern, but one that became particularly acute during the coronavirus pandemic. An autumn report from EI detailed $26 million in needed repairs, across the district. Some rooms had no mechanical ventilation at all. Concerns about the state of ventilation and the ongoing spread of the coronavirus in the community played a role in the district's decision to repeatedly push back its planned 2020-2021 start dates for hybrid learning, and members of the Montclair Education Association declined in January return to school buildings. In the end, the district sued the MEA, and the parties reached a settlement, with the members agreeing to return to school buildings in exchange for more details about the temporary amenity work the district had done to make buildings safer.
MEA chairman Cathy Kondreck said union members told her they have seen little to no improvement in HVAC systems. Minor repairs like open windows and air purifiers were just temporary replacements for mechanical ventilation in the spring, Kondreck said. In the colder months, opening windows is no longer an option, she said.
"It is concerning that HVAC repairs have not been completed in the summer months as we expected," Kondreck said during Monday's board meeting. "I've heard everything Mr. Scherzer has said tonight about the work now being approved for the ventilation systems through the facilities report, and we look forward to getting the work done in a timely manner."
Kondreck also asked the district on Monday evening to provide the union with paper copies of its roadmaps.
The MEA will meet with Ponds later this week about reopening, Ponds said Monday night. Jannah also announced Monday that the board had successfully negotiated a one-year contract with the MEA for the 2021-22 school year.
Kondreck had not responded to questions sent to her union address Tuesday afternoon before press time.
The funding for HVAC in the resolution is "definitely needed," Church said at the board meeting.
"These buildings, unfortunately, and I say this as a taxpayer, may not have been maintained the way they should have been maintained in recent decades," she said. "We are now at a tipping point where it needs to happen. And the plan that is in place will definitely meet the needs of the facilities."
Parent Kerri McMahon said at the meeting that she was concerned that the district and the MEA could not agree on necessary renovations before the school started in the fall.
"I have a deja vu feeling that not all stakeholders are on board," McMahon said. "As I learned our lessons from last school year, I hoped Dr. Ponds could share with us if the MEA was consulted and if they are aligned with returning to school for a full day prior to completing Phase I."
Vijvers did not comment on those comments during the meeting.
Parent Jonathan Farb said at the meeting that it was great to hear about the progress of the renovations. Farb is also a member of the Montclair Parents Advocacy Group for Education.
"We all know that decades of inaction have brought us to this point," said Farb. "Please continue to read progress on this at every board meeting. It's great to hear."
An additional $2 million in federal funds, which would previously be used to fund smaller, urgent projects grouped as Phase 1.5, remains unallocated. The board plans to meet next week to review a proposal for the funds, including more ventilation upgrades and more air purifiers, Scherzer said at Monday's meeting.