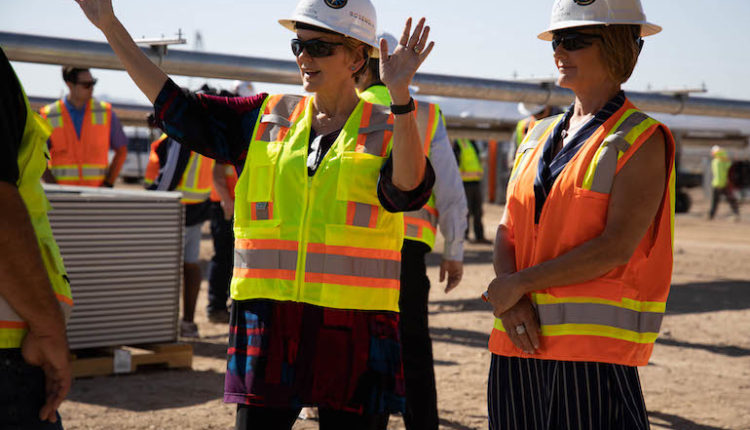 Nevada solar installers give Secretary Granholm tour of Townsite Solar Facility
International Brotherhood of Electrical Workers (IBEW) employees in Boulder City, Nevada, Secretary of Energy Jennifer M. Granholm and Congresswoman Susie Lee (D-NV) demonstrated how solar panels are installed during a private tour of a Nevada construction site. The Secretary of Energy and the Congresswoman toured Arevon's Townsite Solar Facility in Boulder City on June 11, 2021 to meet with workers and promote clean energy job opportunities.
Arevon, the leading renewable energy company in North America, is developing the 232 MWDC/193.95-MWAC solar PV plant south of Las Vegas with Rosendin's Renewable Energy Group, a true EPC providing renewable energy design, planning, construction and maintenance for solar and wind projects. Company executives met Granholm and Lee to explain the project, while IBEW employees demonstrated techniques and described what these jobs mean to them.
"This solar power plant is the perfect example of how we can harness the potential of clean energy to create high-paying union jobs that grow the economy, lower energy bills and tackle climate change," said Energy Secretary Jennifer M. Granholm. "President Biden's US Jobs Plan will create millions of clean energy jobs throughout the supply chain needed to plan facilities, manufacture materials, install transmission lines and solar panels, and it will help us make our country 100% clean. electricity by 2035."
Townsite Solar Facility currently supports 480 construction jobs. Since November, IBEW Local's 357 employees have contributed more than 147,800 labor hours through May 2021, peaking at 520 artisans. The IBEW has been instrumental to the success of the project by providing a steady stream of reliable, qualified artisans.
"As the manager of one of the largest solar portfolios in the country, Arevon is proud of its contribution to Nevada's clean energy economy," said Justin Johnson, CEO of Arevon. "At Townsite and beyond, we've created thousands of jobs building solar and storage plants across the country. We appreciate everyone who helped build Townsite and we look forward to completing this project by the end of the year."
The 1,053-acre Townsite project includes 528,084 First Solar Series 6 PV modules on a NEXTracker Horizontal Single Axis Tracking System and uses Sungrow inverters. Upon completion, the Townsite Solar Facility will be housed within one of the largest battery energy storage systems (BESS) built to date. The power generated on site will be distributed underground to a 230 kV substation and overhead connecting line to the Mead substation just outside Boulder City.
"The City of Boulder City has always been at the forefront of alternative, renewable energy; it comes from our roots. Hoover Dam generates 4.5 billion kilowatt hours annually, providing power to some eight million people in Arizona, California and southern Nevada," said Mayor Kiernan McManus. "Here we are, 85 years after the opening of the Hoover Dam, a leader in renewable energy. It is a source of pride for Boulder City and all of Southern Nevada."
News item from Arevon