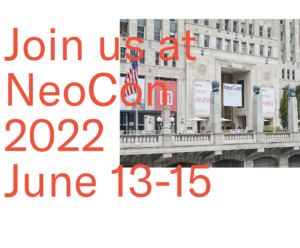 NeoCon highlights commercial design trends for 2022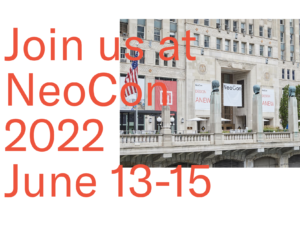 Chicago – As the global platform for the commercial interiors industry, NeoCon, held here at theMART from June 13-15, is a launch pad for the latest products, commercial design trends and ideas shaping the built environment today and in the future, according to organizers to show.
The show's exhibitors said they continue to innovate and exemplify the agility in responding to the latest market needs and design trends, especially when it comes to the workplace – where recent shifts have given rise to concepts such as 'hotelification' and 'phygital'.
This year's exhibitor introductions and programming will also respond to the ever-changing demands of the healthcare, hospitality, retail, education, public space and government sectors. The demand for products that support privacy and adaptability, promote well-being and contain biophilic elements continues and, along with the latest commercial design trends in colors and materials, will also be featured during the show.
Below is an overview, by trend, of some of the advanced exhibitor solutions that the show organizers believe will shape the future of our shared spaces:
The "Hotelification" of the office
Designers and facility managers increasingly approach office interiors as a high-end hotel building. According to CBRE's 2030 Global Outlook Report, the move is "most evident in stylish co-working spaces that cater to untethered digital workers." Characterized by a warm, inviting atmosphere, abundant amenities, and collaborative designs, these new spaces aim to increase employee satisfaction and attract and retain top talent. Cue highly functional and flexible pieces with a large dose of comfort, beauty and colors in soothing palettes.
The Future of Work is "Phygital"
The hybrid work model has led to a "phygital" approach to workplace design that combines the digital and physical worlds. Whether equipped with tech-integrated products or adaptable acoustic solutions, successful physical built environments seamlessly sync external and personal workflows for a better work experience.
Biophilia and well-being
It's no secret that incorporating biophilic design into a space can promote well-being – connecting with nature helps reduce stress, supports cognitive function, improves mood, and boosts creativity and productivity.
Mohawk Group (377)

Mohawk Group's Lichen Community, a new multicolored modular carpet collection, features a soothing textured design reminiscent of the natural world. Equipped with the company's new EcoFlex One support, Lichen Community is just as attractive in its inception. It is also Mohawk Group's lowest carbon carpet tile to date, is Living Product Certified and NSF 140 Platinum for a net positive impact while supporting a more sustainable, ecological, community-inspired wellness.
Patcraft (10-160)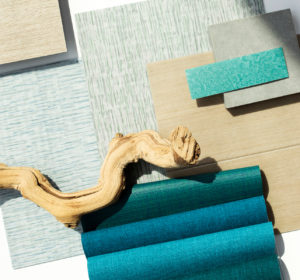 Patcraft's Within is a coordinating collection of resilient planks and slabs, available in both abstract and wood designs that bring a nature-inspired aesthetic to any office. With patterns and colors determined by market research and insights, the collection is designed to specifically meet the needs of healthcare environments and would be ideal in hospital offices and other healthcare-oriented workspaces. The wood visual is embossed in register, providing texture for a more realistic wood look, and is available in nine warm and inviting colorways. The collection features a 20 mil wear layer for superior durability and an ExoGuard finish provides enhanced scratch and stain resistance.
Privacy and adaptability
The increased need for privacy and adaptability in open workplaces is not just a result of the pandemic. Workplaces are increasingly recognizing that facilitating employees' sense of autonomy through designs that can be adapted to one's needs improves productivity and sense of well-being.
Warm earth tones
Of the colors most commonly found in nature, the warmer, earthy tones are more inviting, can also be used as neutrals in interiors, and are known to instill feelings of positivity and encourage good energy.
Momentum Textile & Wallcovering (323)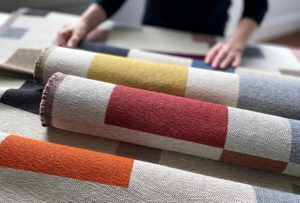 Momentum's new At the Museum collection, designed by Sina Pearson, is inspired by modern art. Featuring six minimal, abstract pattern collections that utilize graphic elements and limited color palettes, the high-performance textile is woven with bleach-cleanable, harsh chemical-resistant yarns and is Greenguard certified. The multicolored Mezzotint collection – pictured here – is woven with textured yarns designed to mimic wool. The striking simplicity of the patterns brings warmth to commercial spaces without dominating the interior.