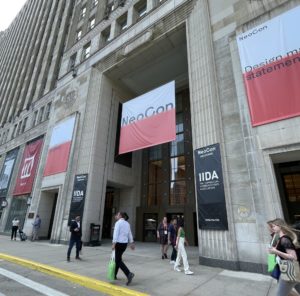 NeoCon 2022: Commercial picks up steam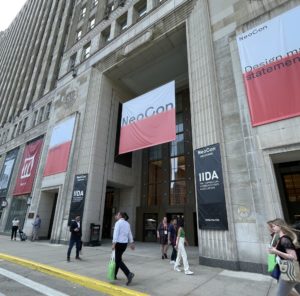 Chicago – NeoCon 2022, held here last week, buzzed with optimism as commercial flooring suppliers touted that sales and specifications in the commercial segments bounced back into 2022. This is after two years of declining activity amid the fallout from the COVID-19 pandemic.
In addition to the commercial market, the NeoCon show itself also gained steam over the 2020 event; commercial floor exhibitors say it was at about 75% pre-pandemic level. The show's organizers confirmed that the turnout this year was higher than in 2020, at around 40,000.
"NeoCon remains critical to the contract industry ecosystem as it effectively connects all key players and is a hub for innovation, industry education and business," explained Byron Morton, vice president of leasing, NeoCon. "There is no other building that offers the community and concentration of design that theMART and NeoCon can provide. Our programming is both inspiring and incredibly useful – from presentations by influential thought leaders from the wider design and cultural worlds to our current and productive CEUs. NeoCon is the product launch platform for the commercial interiors industry and our showrooms and exhibitors continue to meet the needs of the changing commercial design landscape."
Commercial floor exhibitors agreed the show was a bright spot to start a good year of growth. "I think everyone who is here is very positive and happy to be here," said Amanda Darley, vice president of marketing, Mannington Commercial. "I think it may not be the levels we saw in 2019, but it was a good crowd, and everyone is very excited to be here in 2022 and do business."
Commercial comeback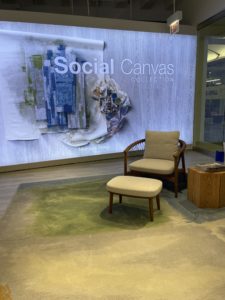 Unsurprisingly, the commercial flooring market hit a rock bottom in 2020-21 as many of its growth segments were hit by closures, unable to pause for renovations or lost funding for new projects. However, the first half of 2022 is moving full steam ahead and commercial suppliers agree that the market is exceeding expectations.
"Business is picking up," said Mark Page, senior director of creative design and development at Mohawk Industries. "I know that we have gradually increased our market share over the past three months. Business is active: people are trying to renovate, remodel their spaces, encourage employees to come back and create an experience in the workplace."
For Novalis, a 100% commercial flooring company, operations have never completely stopped, but growth is imminent, according to Jeremy Whipple, vice president of commercial business development. "2022 is good," he said. "The residential guys have moved a wave with the housing market during the pandemic as everyone put money into their homes. It really slowed down for us, but the great thing is, right before the pandemic, we had a huge book of business — we expected triple-digit growth. We were lucky that many of our projects still had funding and they wanted to get things done quickly. There was a sense of urgency – I've never seen projects like this happen so quickly. So we didn't have the same catastrophic events during the pandemic as others, but it was not what our expectations were. Commercial is emerging from the pandemic and growing. As long as we can keep inflation from going crazy, we're confident 2023 will be the big year."
For Crossville, Lindsay Waldrep, vice president of marketing noted, "The first five months were a little insane — in a mostly good way. Fortunately, the things that a lot of people see as negative are some of the strengths Crossville has, which is agility. "We can really turn and shift with the market, and the fact that we can have the wazoo in Tennessee inventory is super important. The challenge for us remains the manpower and the rising fuel costs. On the plus side, we've had new customers , new projects, major projects continue."
Recurring segments
The resurgent segments for many suppliers are healthcare, education and office. While healthcare has been active during the pandemic, suppliers agree that projects have increased. "Healthcare has definitely been our bread and butter during the pandemic, and healthcare sales remain strong," said Keesha Nickison, content manager at Tarkett. "And I think workplace is definitely number two for us. I think companies are aware of the fact that they have to do some things to bring people back, to help them want to be back in the office after being home for so long. So they really look for updates to their properties, and floors are a big part of that, luckily for us."
When it comes to the education segment, Nickison added: "I think there is a lot of new construction taking place in education and looking at social emotional learning for the student and also for the staff, to ensure that their well-rounded needs are met. within the space outside the core curriculum."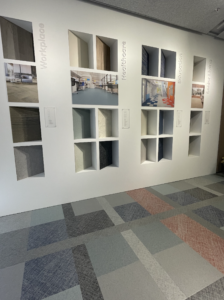 For Patcraft, Shannon Cochran, vice president of creative, noted that 2022 was very positive for business. "Clearly there was a lot of restrained demand in the year, especially in segments where we couldn't bring in refurbishments. I would say specifically health care and education. We've also seen business come back pretty strong – I would say probably a little faster than we thought it would come back and that was really exciting to see." When it comes to the workplace segment, Cochran saw opportunities. there's a chance to reconnect. While we were all home, there were also benefits. But I think we also realized that the model we had wasn't super broken. I mean, there were some good things about it going back to the workplace and having that reconnection I think that energizes all of us in a way that we haven't had in years in the business we've also seen people do little renovations to bring people back – the changing the environment a little bit by adding rugs or really looking at lobbies and spaces where they want people to come back to work together and reconnect."
Hot products
For most commercial suppliers, hard surface will remain the workhorse in commercial spaces in 2022. "We're definitely seeing a lot of growth on the resilient side," said Anna Webb, vice president of marketing and product development at Interface. "We joined LVT in 2017. Before that, we were a carpet tile company. We are now a flooring supplier. And resilient has certainly generated a lot of growth. We see this especially at LVT."
Keith Richardson, director of performance markets, Patcraft, also noted that the emphasis is on hard surfaces. "On the healthcare side, hard surface, especially in acute care, has been the main driver. And we are well positioned for our product development and have decided to strengthen that in recent years. So I feel like we're in a really good place with the additions we have. Sheet vinyl is one. We have several new collections of homogeneous and heterogeneous leaves. We also have homogeneous tiles, that is Admix, which has probably been the star of the show on the hard surface side, a product that we can heat weld and flash coat for operating rooms, patient rooms, corridors, wherever you want a durable hard surface. So, I would say, for healthcare, those have been the main drivers."
Patcraft's Cochran added that while the demand for hard surfaces has increased, there is also a need for a balance in space. "We've definitely seen an increase for that hard surface, but we're also thinking about acoustics and productivity as people go back to make sure you're balancing the acoustics. So I think carpet tiles and loose rugs are also a product category that we looked at."
For full coverage of NeoCon 2022, check out the July 4/11 print edition of FCNews.