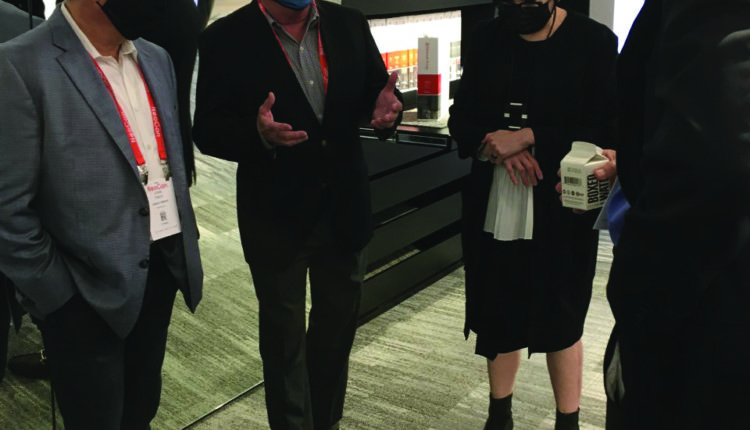 NeoCon 2021: Exhibitors score on sustainability, design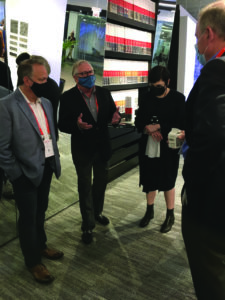 By Ken Ryan-Chicago-Like many personal events during the COVID-19 era, NeoCon faced delays and schedule changes that ruined its goal of a mid-June meeting. Instead, NeoCon was moved to early October, and while some of the top flooring companies withdrew from the show due to pandemic concerns, those who did attend benefited from more interaction with members of the A&D community.
"Not to be here would have been a missed opportunity," said Mark Page, senior director, creative design and development, Mohawk Group. Mohawk, who won three golds at the show (see box), took full advantage of his time with designers to present his Waterways Project.
Among the awards, Page was especially proud of her win in the Sustainability category for Data Tide, a product within Waterways. Data Tide, a 12 x 36 modular carpet plank, has gradations that flow from light to dark to mimic transitional waters. The collection's color tones refer to estuaries, Page said. Data Tide can be combined with Mohawk Group's portfolio of soft and resilient floors and finishing accessories.
Waterways' eight collections are designed to foster a symbiotic relationship with rivers and workspaces, encouraging respect for — and protection of — the world's aquatic ecosystems. The project's designers and engineers seek to develop products that are healthy, free of toxic substances, socially responsible and respectful of workers' rights, while having a positive impact on the environment.
Page told FCNews that Mohawk has always been committed to sustainability, but has recently stepped up its commitment. In September, for example, it signed The Climate Pledge, a sustainability-based effort originally founded by Amazon and Global Optimism. Mohawk Group has joined more than 200 signatories who are also committed to accelerated climate action. By signing the pledge, Mohawk Group agrees to adopt several climate-sensitive strategies, including a commitment to regularly measure and report greenhouse gas emissions, neutralize the remaining emissions with permanent and socially beneficial offsets to achieve net greenhouse gas emissions by 2040. achieve zero annual carbon emissions and implement decarbonisation strategies in line with the Paris Agreement.
"This kind of action is what our A&D community expects," explains Page. "This is not a question from them; it is what they demand."
According to Page, Interface has been at the forefront of sustainability standards for many years. "This year we have a [awakening], and we are recognized for that," he added.
Mohawk launched four LVT collections made in Dalton at the former IVC factory. All four can be used together or separately and are aimed at the education segment. Mike Gallman, president of Mohawk Group, greeted his design team. "The team continues to push the boundaries. It starts with a mission, a purpose and a story. We honed this into a real science."
Shaw Contract's NeoCon was sprinkled with gold awards, with the bottle floor taking the top spot in both sustainability and innovation. Bottle Floor is a new hybrid floor material made from 30% post-consumer PET bottles. Each square meter of Bottle Floor contains 61 recycled plastic bottles. With the appearance of a soft surface and the durability of a hard surface, this product is 4mm thick and can be installed next to most EcoWorx carpet tiles without the need for transitions. More than 2 billion plastic bottles are recycled every year.
Armstrong Flooring was another company that was happy to visit NeoCon. Not only did the company win Best of NeoCon awards in the Vinyl/LVT category, it also had valuable meetings with attendees.
"There are a lot of specifiers/contractors we've met," said Dave Thoresen, senior vice president, product and innovation officer. "Although the traffic is lighter, the quality of that traffic was really good."
Armstrong won the Best of NeoCon awards in hard floors: vinyl/LVT (Rest & Refuge) and in the Healthcare for MedinPure category (see box). MedinPure is a PVC-free homogeneous sheet that uses a proprietary formulation, including coordinating PVC-free welding rods for aseptic areas. MedinPure is free from ortho-phthalates, halogens, isocyanates and Red List substances of concern.
Rest & Refuge, which won gold, is focused on the hospitality segment, an extensive area of ​​focus for the company. Among its key features: ultra-dense core, top-down 100% waterproof structure and a single-product acoustic performance attached pad that allows quick installation without acclimatization in most spaces.
"By far the designs are on point," said David Kurtz, vice president of commercial sales. The company showed planks of 9 x 60 and 9 x 70 with a thickness of 6.5 mm. This format, Kurtz noted, will match the specs required by Marriott hotels as the company moves into the hospitality space.
Patcraft's focus was on the geometry of form, which studies the relationship between two contrasting points or ideas: minimalism and maximalism; digital and physical; positive and negative space. One of the standout offerings was Longitude, an innovative resilient floor derived from a rigid mineral core combined with a durable top layer. It has an ExoGuard+ finish that offers improved scratch and stain resistance, and is available in 6 x 48 planks.
Special Palette, a Silver Award winner in the modular carpet category, is the first collection in Patcraft's new ReWorx platform: 100% PET product that can be completely recycled. It is offered in a 12 x 48 shelf size.
Tarkett won Gold in the Hard Surface Vinyl/LVT Natural Materials category for its Color Splash Speckled Rubber Tile. The line comes in 50 standard colors, including solid tonal images that work alongside multicolored chipped colorings. Color Splash Speckled Rubber floors are suitable for applications where slip resistance, durability, easy maintenance and comfort underfoot are important.
---
Flooring wins big at NeoCon
Floor exhibitors emerged as big winners on the 30e edition of the Best of NeoCon Awards in Chicago earlier this month.
In the area rugs category, Mohawk Group has won a Gold Award for Rheo Morph. The company also took top honors in Broadloom for Urban Shores. Mohawk Group won three Best of NeoCon Awards. Shaw's Patcraft brand earned Silver (Broadloom) Inspired Connection.
The Gold Award in the Modular Carpet category went to Shaw Contract in recognition of his Collective collection, while Patcraft earned the Silver Award for Spatial Palette. Mohawk Group won the Sustainability Award for Data Tide.
In the Hard Surface/LVT category, Armstrong Flooring took gold for its Rest & Refuge rigid core line, while Aspecta took silver. (Armstrong Flooring also earned a Gold Award in the Healthcare Flooring category for its PVC-free vinyl line MedinPure.) Additionally, Terra Luxury Flooring (Flooring: Workplace, Hard Surface) earned an Interior Design HiP Award.
Meanwhile, in the Hard Surface-Natural Flooring Materials category, Tarkett took home the Gold for Color Splash Speckled Tile.
Finally, in the Specialty Flooring category, Shaw Contract won both the Sustainability and Innovation Awards for Bottle Floor.
"We send our hats off to all Best of NeoCon entrants and congratulate the winners," said Lisa Simonian, vice president of marketing for NeoCon. "It is no small feat to receive this level of recognition and accolades from such a demanding group of industry professionals."
A total of 97 awards in 52 categories were presented at NeoCon. The main categories were floors, furniture, textiles, technology, lighting and interior and exterior surfaces. Product submissions were judged during a two-day, in-person review by a diverse jury of leading architects, designers, specifiers and facility managers. The competition judges were selected for their expertise spanning a variety of commercial sectors, including the healthcare, institutional, educational and hospitality/hotel markets.