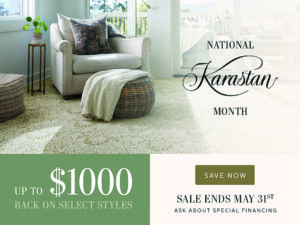 National Karastan Month kicks off spring selling season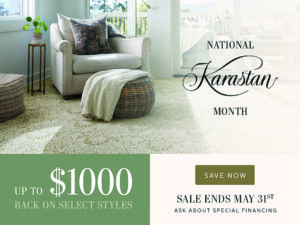 Karastan, the high-end brand within the Mohawk family, continues its 30-year tradition of helping dealers jump-start the ever-important spring sales season. The brand recently launched its annual National Karastan Month promotion, which will run until the end of May. This exclusive, limited-time event helps retailers with their sales while promoting the Karastan brand at the same time.
"It's really important to promote the Karastan brand, especially those consumers who are looking for a more upscale style," said Janel Hernandez, director of channel marketing at Mohawk. "It's not just a luxury anymore, it's a luxury product with broad appeal to those consumers who are more style conscious, more fashion conscious of their home."
This year, Karastan has completely restructured the promotion to better serve a wide variety of customers and attract more visitors to the stores. "This year it's up to $1,000 off and it's a shared expense," Hernandez explained. "Mohawk will actually refund the consumer and then refund the retailer for their share, 50%, of the discount. That's what's a little different: we structure it so we can financially offset some of that burden on our dealers."
In addition to promoting the Karastan brand, according to Hernandez, the company also wants to raise awareness of the entire Karastan portfolio at the same time. The sale includes not only Karastan Soft Surface products, but also Karastan LuxeCraft Resilient Flooring and Karastan BelleLuxe Hardwood.
"We support the entire portfolio and it shows in the video assets and the point-of-purchase kits we've created for our retailers," Hernandez noted.
Also helping to boost these sales is the special 0% financing for up to 36 months, available exclusively from Mohawk. The company has negotiated strong rates with its partner, Synchrony Financial, which are provided to Karastan dealers, especially those who work at Mohawk Edge.
"Having the [special] available financing actually helps appeal to that wider consumer," Hernandez said. "Especially those millennials who definitely want to be able to fund these larger purchases; having that financing option also helps them make that purchase decision."
Dealers prize opportunity
Dealers who have participated in National Karastan Month in the past say they are excited about the opportunities the promotion offers. "Karastan is one of our top partners," explains Susan Hadinger, CEO, Hadinger Floors, Naples, Florida. "They do a great job of staying on the forefront of trends and coming up with great products that appeal to our consumers."
Hadinger has attended the promotional event for as long as she can remember and said she feels the National Karastan Month sale is a great way to draw people to her store and grab the attention of consumers. "Karastan Month is a great promotion and it certainly boosts sales and draws people to the door," she noted.
Hadinger is not alone.
Aaron Johnson, a partner of Johnson & Sons Flooring in Knoxville, Tennessee, said his store has seen an increase in traffic every time National Karastan Month begins. "Nobody does anything like Karastan in terms of the kind of sales they do," he stated. "We've seen a lot of effort on their part to add value to dealers."
The post National Karastan Month kicks off the spring sales season appeared first on Floor Covering News.