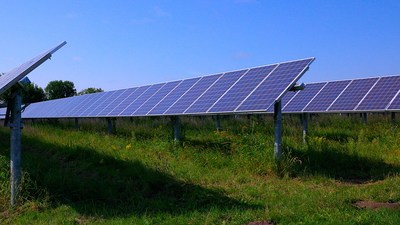 National Grid's new 40-MW Michigan solar portfolio now operational
National Grid Renewables announced that its 40 MW MiSolar portfolio has recently been commissioned. It includes two Michigan solar projects, Bingham Solar and Temperance Solar, in Clinton and Monroe counties, respectively. National Grid Renewables, along with its affiliates, owns and operates both solar projects, and each project has a PPA with Consumers Energy.
National Grid Renewables contracted Michigan-based EPC contractor J. Ranck Electric to build the projects, and at the peak of construction, MiSolar employed approximately 160 workers, 95% of whom were recruited from communities within a radius of 100 miles from any location. Additional MiSolar jobs and economic benefits resulted from using Michigan subcontractors, including The Hydaker-Wheatlake Company, based in Reed City, Michigan.
"As a Michigan-based company, The Hydaker-Wheatlake Company was proud to help build the MiSolar Portfolio," said Neil Wallerstrom, general manager of The Hydaker-Wheatlake Company. "Solar projects like the MiSolar Portfolio provide economic benefits to Michigan residents at the local and state levels. During the construction process of both of the project's substations, we were able to hire Michigan residents and were excited to support local hardware stores, hotels and restaurants."
Three full-time operating and maintenance employees work at the MiSolar project locations. During its first 20 years of operation, MiSolar is expected to continue to benefit the community by creating approximately $6 million in new tax revenue based on Michigan's current law.
"Our company has a long history in Michigan and we are proud to support the state and local economies by creating new tax revenues and jobs from these projects," said David Reamer, head of development for US Onshore Renewables for National Renewable networks. "Thank you to the people of Clinton and Monroe Counties for welcoming us into your communities."
News from National Grid Renewables