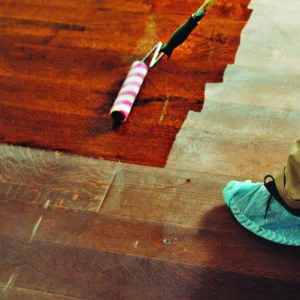 NAR: Hardwood projects provide highest ROI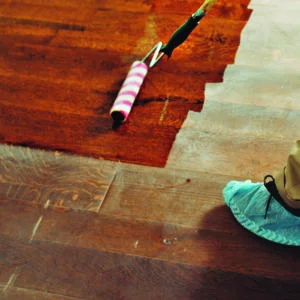 The flooring industry has long known that hardwood floors are an ambitious product. Now RSAs have another point of contention: A study by the National Association of Realtors (NAR) found that refinishing hardwood floors yielded the highest return on investment — higher than any other project.
In its research, NAR provided an estimate of the likely dollar value each project would add to a home when it resale. By comparing that dollar value to the estimated cost of each project delivered by NAR members, a percentage of the project costs recovered was calculated.
For interior projects, the highest percentage of cost recovery came from refinishing wood floors (147%), followed by new wood floors (118%). The study calculated a homeowner's investment of $3,400 in refinishing wood floors with an estimated cost recovery of $5,000. For new wood floors, homeowners would spend $5,500 and recoup $6,500. In comparison, a kitchen upgrade delivered 67% cost recovery.
In consumer reviews after completing their new wood floor project, 90% said they have a greater desire to be at home since the project was completed, while 77% said they had more fun being at home. Meanwhile, 61% felt a great sense of accomplishment when they think about the project.
Of course, flooring professionals welcomed the survey as confirmation that floors are a great investment for homeowners. "This information is extremely valuable," said Ted Kozikowski, CEO of Galleher, a top 5 distributor whose portfolio is heavily focused on hardwood floors. "It's a plus when we can quantify a large investment for a client and demonstrate a strong return on investment."
Flooring retailers agreed that positive information about their industry from a trusted source is more fodder for an RSA. "We can certainly use those stats in our sales presentations to homeowners to show that hardwood flooring is a real investment in their home that they should be able to recoup more than if they ever sell their home," said Ted Gregerson, president of Ted's Abbey. . Carpet and Floor, Anniston, Ala.
Adam Joss, owner of the Vertical Connection Carpet One Floor & Home in Columbia, Maryland, said the research provides interesting information to share and helps justify the cost when someone is interested in buying wood. "It can be reassuring to someone who's already on the market," he said. "I don't think you can show that to anyone and have them swap carpets. Most people come in these days and already know what they want or have a pretty good idea."
According to Steve Weisberg, president of Crest Flooring, Allentown, Pennsylvania, the NAR consumer survey will certainly have merit when it comes to higher end homes, where real wood floors are more common.
Other dealers such as Bryan Park, CEO of Footprints Floors, a Hauppauge, NY installation company, agreed, adding that a new hardwood floor can completely revitalize a home and therefore has such lasting value. "Kitchen and bathrooms are often the first rooms to undergo a renovation, but investing in floors can pay off for years," he said.