Must-have product introductions of 2021
By Ken Ryan – For many floor sellers, 2021 was the best year of sales ever, and it's no wonder the product pipeline continued to deliver innovative, in-demand offerings. Following are some of the key product launches of 2021, along with their key selling points.
Armstrong: Essentials Plus Rigid Core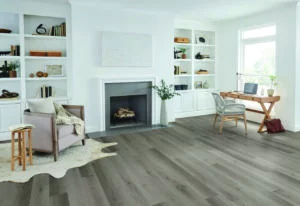 Essentials Plus channels the popular Japandi design influence with a 20-SKU range of realistic wood and concrete visuals. Built to withstand active lifestyles and households, Essentials Plus' 5.5mm SPC core offers superior indentation resistance. Essentials Plus is available in 60 inch planks with 7 and 9 inch widths.
Point of sale: Planks are protected by a 20 mil commercial grade wear layer.
Cali Vinyl: Legends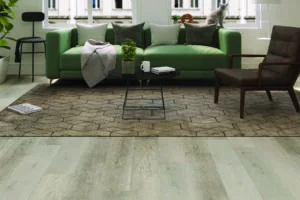 Holding a Legends shelf is understanding its value. Planks are 60 inches long by 9 inches wide with a substantial WPC core providing a total thickness of a full half inch – ideal if you want to avoid cutting or replacing existing baseboards and jambs. Highly authentic wood grains in signature coastal colors elevate any home design.
Point of sale: Extra thick planks are lightweight but communicate a higher value product.
Making floors: Lofts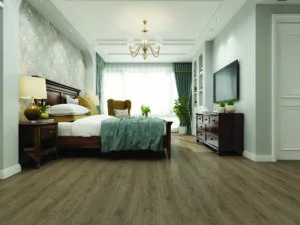 Create's Lofts collection is designed to flawlessly withstand most moisture-related accidents, allowing consumers to live and work worry-free. Lofts have a total thickness of 14mm and come in random long lengths of 2, 4 and 6 feet.
Point of sale: Checks all the important floor dealer boxes: Lifetime Waterproof Warranty, EIR, Wide and Random Long Lengths, Attached Pad and Multiple Trendy Colors.
Daltile: Defending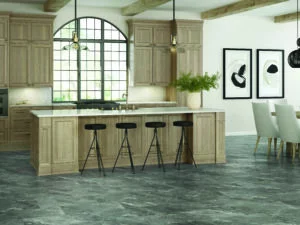 Daltile's new Defend is a separate product line of high-quality porcelain tiles with Microban technology. The new Daltile product with Microban eliminates 99% of bacteria on the tile surface 24/7.
Point of sale: The surface protection is built into the tile and will not wash off or wear off.
Technical floors: Monte Carlo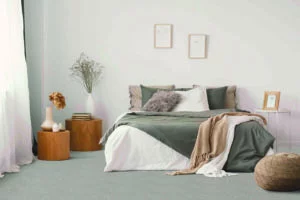 Monte Carlo III from Engineered Floors introduces a lofty yet casual aesthetic for all designer needs. Featuring 12 earthy neutrals with subtle variations, the plush, 80-ounce rug offers comfort and a soft velvety feel underfoot.
Point of sale: The solution dyed yarn is designed to ensure extreme durability for busy households.
Floor lines: Christina Collection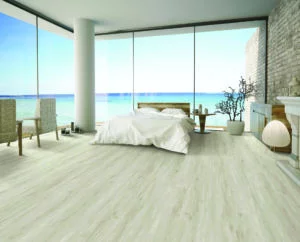 Christina Haack of "Flip or Flop" and "Christina on the Coast" used her expertise in design and flooring to launch her new waterproof line, the Christina Collection. Her goal is to help people find quality floors that are stylish, durable and affordable.
Point of sale: Scratch+ and stain resistant floors have a 20 mil wear layer for added protection in residential or commercial traffic.
Happy Feet: Rescue with ZeroMark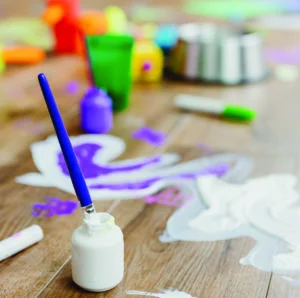 With Happy Feet's patented Stabilicor Plus core and green EVA pad, Rescue is the thickest SPC product in the Happy Feet family, offering comfort, quietness and durability. All six colors feature painted bevels.
Point of sale: ZeroMark uses proprietary compounds formulated specifically for harsh environments.
i4F: i-Click4U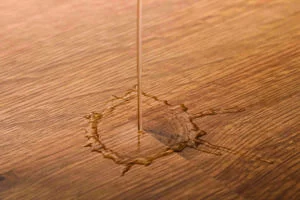 i4F has launched a water-resistant, one-piece, drop-lock floor installation system. Complementing Click4U technology, i-Click4U has exceeded North American Laminate Flooring Association (NALFA) requirements for water-resistant floors.
Point of sale: I-Click4U technology eliminates the need for chemical sprays or additional sealants normally required to prevent water from leaking into panel joints.
Karndean: Van Gogh Rigid Core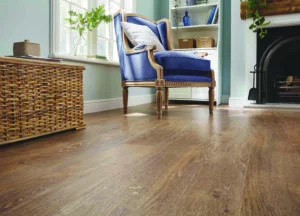 The 7 x 48 Van Gogh Glue range has evolved to meet the tastes and trends of the market, including a selection of Van Gogh images in a double rigid core format. Recent additions of rigid cores have been developed from native Australasian forests.
Point of sale: Van Gogh's multi-format visuals allow homeowners to choose the format that meets their needs in the color that suits their style.
Inhaus: Lamdura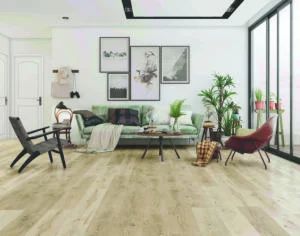 Inhaus seized the opportunity to combine contemporary design and innovation with its heritage in laminate flooring to produce Lamdura. With three collections – Visions, Inspirations and Landmark – Lamdura has 39 designs along with superior water resistance.
Point of sale: Durability, durability, ease of use and design authenticity.
Lions Floor: Natural Essence Plus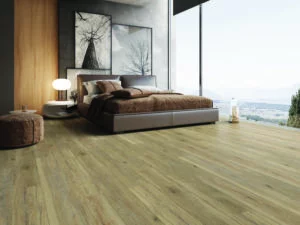 Natural Essence Plus offers rich, distinctive colors and textures with the latest registered embossing technology that looks and feels like natural wood. The Uniclic system creates an impenetrable tight lock and allows for easy, fast and affordable installation. Natural Essence Plus stands for both luxury and ultimate craftsmanship.
Point of sale: 100% waterproof with 20 mil wear layer and aluminum oxide UV coating, for comfort and superior stability.
Mannington: CraftedEdge chamfer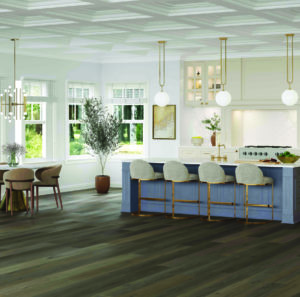 CraftedEdge bevel is the next generation in LVT beveling technology, making Adura floors look more like real hardwood. Mannington's exclusive bevel technology simulates a chiseled, hand-crafted bevel found on today's luxurious hardwood floors. CraftedEdge is currently available on select Adura Max and Adura Rigid designs.
Point of sale: These great looking LVT floors now look like authentic handcrafted hardwood.
Phenix: FloorEver PetPlus with Microban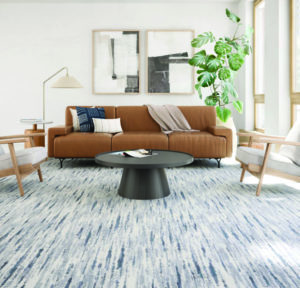 Bring pets, wine, tomato juice, heavy traffic – no matter what's spilled or trampled, Phenix carpets with SureSoftSDN solution-dyed cationic nylon have the best performance in terms of stain resistance and crush resistance.
Point of sale: This stain and crush resistant carpet will soon receive Microban protection.
Mercier: Atmosphere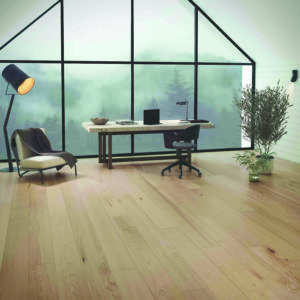 The light hues of Mercier's Atmosphere collection blend with natural highlights to showcase the awesome texture and grain of wood. Floors from this collection are offered in hard maple, red oak, hickory and white oak – on constructed and solid platforms – in a choice of widths ranging from 3 to 8 1⁄8 inches and four neutral colors.
Point of sale: Red Oak and White Oak come with a matte brushed gloss option that adds texture to the floor and helps to hide dust and everyday stains and wear.
Stanton: Safari King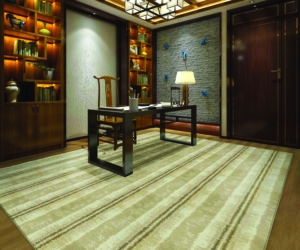 The Kilimanjaro collection kicked off in 2019 with Serengeti and King Cheetah. Based on the success of the first releases, Stanton expanded the collection in 2020 with two dramatic designs: Dottie and King Tiger. This year, Safari King has been added as the epitome of statement carpet. The lavishly cut pile shows off the intricate detail and the color enlivens the linear animal-like pattern.
Point of sale: Safari King brings an artistic touch to any staircase or runner and is designed as a showstopper in custom area rugs.
Mohawk: UltraWood
Mohawk's UltraWood is the ultimate hardwood offering proven waterproof performance, long-lasting durability, and simplified delivery and installation. With no acclimation time, UltraWood can be installed as soon as it is delivered, while Mohawk's Uniclic glueless locking system makes installation quick and easy.
Point of sale: UltraWood uses Mohawk's WetProtect waterproof technology and CleanProtect antimicrobial floor protection.
Tarkett: Triton Tuff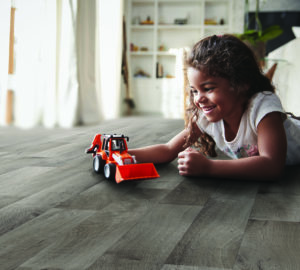 Tarkett Home's new waterproof flooring option, Triton Tuff, has a textile backing, making it stronger than traditional luxury flooring products. The 18 trendy designs include traditional tiles and woods, modern herringbone patterns and unique ceramic tiles.
Point of sale: The 18 trendy designs include traditional tiles and woods, modern herringbone patterns and unique ceramic tiles.
MSI: Smithcliff's Hybrid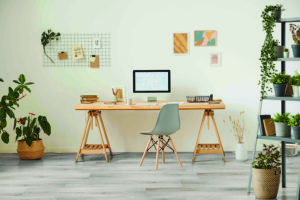 The Smithcliffs Hybrid from MSI – the next big thing in a rigid core – is a worry-free floor with CrystaLux Ultra technology, which helps protect against scratches, stains and dents.
Point of sale: Ultra high density fiber core makes it extremely durable and offers the highest scratch protection.
The Dixie Group: Trucor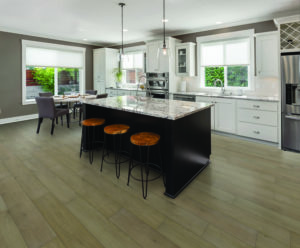 In today's sea of ​​equality, Trucor 3DP offers real differentiation in hard vinyl. Start by digitally printing the wood or tile image directly onto an SPC core, virtually eliminating pattern repeats in SPC film-based products. Make installation easy with the i4F locking system and top it off with the TruArmor Advance Performance coating.
Point of sale: By digitally printing the wood or tile directly onto an SPC core, repetition of patterns is virtually eliminated.
Unilin: Unicoat
Unilin Technologies recently introduced Unicoat as a licensable technology. This coating greatly improves the water-repellent properties of a floor. The coating technology, known as Hydroseal or WetProtect, prevents water from penetrating between the joints of two floor panels and forms a shield on the floorboard edges.
Point of sale: Water-repellent edge coating for wooden floors.
City floor: Timbertop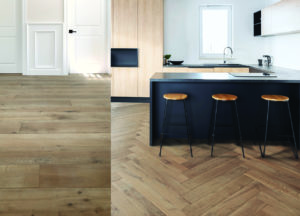 With eight composite SKUs available in both a 9.5-inch-wide plank and a 4.75-inch-wide herringbone, the premium Timbertop collection stands out. Each 13⁄16-inch thick plank has the strength of a cross-finger core, a 6mm wear layer and the latest complex reactive stain technology that produces multi-dimensional colors that simply cannot be reproduced with traditional staining methods.
Point of sale: A robust 6mm European Oak wear layer, premium reactive stain and coordinated herringbone selections distinguish Timbertop.
Well made: HDPC/SPC waterproof hardwood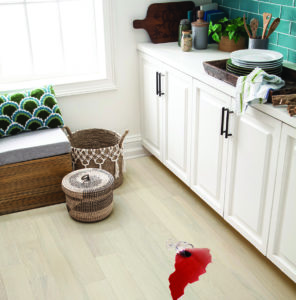 The performance benefits of rigid core floors combined with the uniqueness of real hardwood. HDPC Waterproof Hardwood is available in the popular oak, hickory and birch woods. Low-gloss finishes with wire brushes and distressed textures complete the collection. Choose from traditional 5 x 48 planks or 7 x 84 premium planks.
Point of sale: HDPC/SPC is ideal for use in damp areas: kitchens, bathrooms and undersized basements.