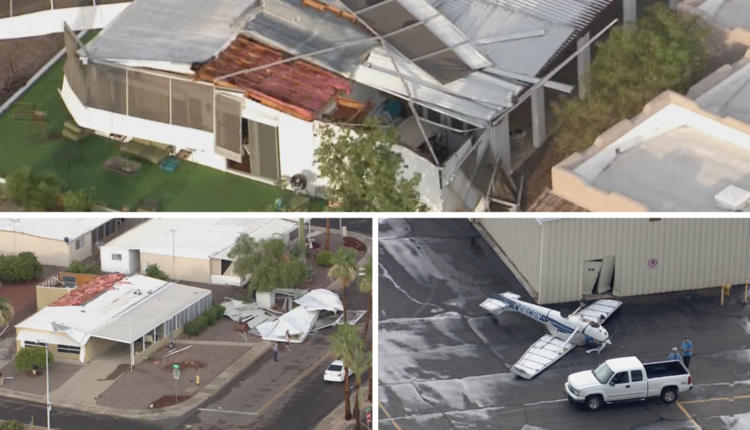 Monsoon storms flip over airplane, rip off roofs in Mesa | Arizona Monsoon
MESA, AZ (3TV/CBS 5) – Monsoon storms that started in the distant West Valley damaged homes and planes in the East Valley. At Falcon Field, aerial video footage showed a single-engine plane being turned upside down. There was also damage to a nearby hanger. The airport saw a gust of 75 miles per hour!
Flagstaff floods city and province to declare state of emergency
Just east of Falcon Field, several homeowners have repairs to do as roofs were blown off. Numerous trees were knocked down. A carport was also heavily damaged. So far there are no reports of serious injuries. At the height of the storm, nearly 9,500 SRP customers were without power.
+22
Monsoon storm causes damage in Mesa . on Thursday
It all started around 3 p.m. when isolated thunderstorms began to crop up in the distant West Valley. Video from viewers shows how it rains. Lake Pleasant in Peoria saw up to an inch of rain. Then a severe thunderstorm warning went out for Mesa, Scottsdale and Fountain Hills. A neighborhood near Power and McDowell roads saw 3/4 inch of rain. As the day turned to night, the storms began to dissipate.
---
Copyright 2021 KPHO/KTVK (KPHO Broadcasting Corporation). All rights reserved.