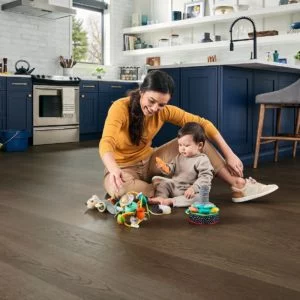 Mohawk's UltraWood named Good Design Winner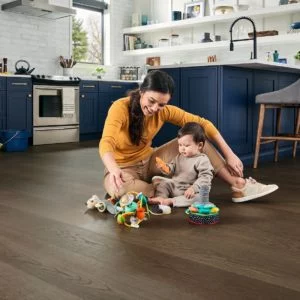 Calhoun, Ga.-UltraWood was named the winner of the Green Good Design Award 2022 by The European Center for Architecture Art Design and Urban Studies and The Chicago Athenaeum: Museum of Architecture and Design.
For 2022, Green Good Design said it received hundreds of submissions from around the world, including prominent manufacturers and Fortune 500 companies such as Mohawk. Members of The European Center's International Advisory Committee acted as jury and selected more than 160 new products, programs, people, spatial planning and architecture as outstanding examples of green design from 30 countries.
"Mohawk is honored to receive international recognition for one of our latest innovations," said Malisa Maynard, vice president of sustainability at Mohawk. "I am proud of our teams for thinking ahead and working on developing more sustainable flooring products such as UltraWood. Together with the other winners, we are helping to build a better world."
For people who want a sustainable alternative to traditional hardwoods, UltraWood is naturally sustainable, offers 10x more flooring and uses 90 percent recycled wood, the company said.
Naturally Sustainable
As trees grow, they store carbon. When the tree is converted to UltraWood, the carbon remains trapped in the finished materials. That's why UltraWood removes carbon from the air to store it in a beautiful durable floor, and since natural wood is the primary raw material used in UltraWood, the floors are 100 percent renewable, according to the company.
10x more floors
The UltraWood manufacturing process yields 10 times more natural hardwood per log compared to traditional hardwood flooring production, according to the company. For example, in a 2,500-square-foot home, only 2.5 logs are needed to floor the entire space with UltraWood, compared to 25 logs to floor the entire space with traditional wood.
90% recycled wood
According to the company, 90 percent of the wood used to make UltraWood's impact-resistant boards is recycled from post-industrial wood. In fact, Mohawk said it converts half a million tons of industrial wood waste each year into impact-resistant boards with 5 times better dent protection for UltraWood hardwood floors.
"UltraWood demonstrates our commitment to innovating sustainable flooring solutions," Maynard said. "Mohawk's recycled platform opens up new opportunities to create and improve circular products."
In addition to its durable properties, the company said UltraWood offers durability and cleanability. UltraWood includes some of Mohawk's best-known technologies, such as Everlast, WetProtect, and EasyClean.
"UltraWood is the total package in wood flooring," said Seth Arnold, vice president of marketing, hard surface, Mohawk. "It really is the ultimate hardwood and it's exciting to see Good Design recognize that too."