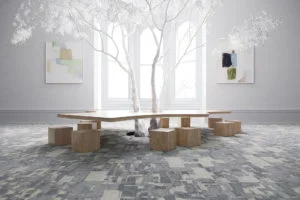 Mohawk showcases new collections at NeoCon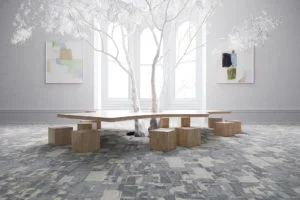 Mohawk Group said it will attend NeoCon as it showcases six upcoming collections. NeoCon visitors can experience several new collections, including Social Canvas and Painted Perspectives, both part of a collaboration with ArtLifting that provides an inclusive platform for marginalized artists, as well as Pattern of Time LVT. Also on display are Timeless Tailored modular carpet and Fractal Fluency, an extension of the concepts from the Relaxing Floors collection. Visit showroom 377 June 13 – 15 to experience these new innovative products.
"This NeoCon promises to be an exciting homecoming for the design community," said Jackie Dettmar, vice president of marketing, design and product development at Mohawk Group. "We are excited to see everyone and show new collections in both hard and soft floors that drive innovation, lead sustainability initiatives and create designs that have a positive social impact."
Mohawk Group said its Social Canvas collection uses the work of artist Charlie French as its starting point and is the result of a collaboration with ArtLifting, an organization that champions artists affected by disabilities or home insecurity. ArtLifting provides a platform and creates opportunities for underrepresented artists to amplify their voice and participate in the contemporary art market. The styles in the Social Canvas collection include thick and smooth textures, colorful brushwork and a sophisticated palette, the company said.
Painted Perspectives, the soft surface collection developed from the work of two artists, Alicia Sterling Beach and Scott Benner, features designs from Mohawk's own studio inspired by the work of Beach and Benner, according to the company. Certain styles bring the work of one artist more into focus, while others completely unite them into one multifaceted aesthetic, the company said.
Pattern of Time, a new addition to Mohawk Group's Large & Local LVT collection, combines the comfort and tradition of a wood grain floor with a unique and inventive rise of color, the company said. The ultra-wide and long 9.25 x 59 plank format offers great installation options, while the 4.5 mm thickness enables seamless transitions with EcoFlex NXT and EcoFlex ONE carpet tiles and improved floor-to-floor acoustic performance, the company said.
Mohawk Group said it will introduce its second collaboration with 13&9 Design & Dr. Richard Taylor, chief of physics at the University of Oregon and Fractals Research to deliver the new Fractal Fluency modular carpet system. According to the company, fractals are the building block of many patterns in nature and have been scientifically proven to reduce stress and thus provide physical health benefits. These new carpet planks are offered in two styles, eight different colorways.
Mohawk Group said it will showcase Timeless Tailored – a collection that reflects the classic weaves of tweed and twill textiles. These modular carpet tiles bring a touch of sophistication and the tactility of fabrics to the floors of the built environment, the company said. This collection features three modular 12 x 36 carpet plank styles that take their design from classic fashion apparel fabrics rendered in small, medium and large scales rendered in texture and pattern.
With Mohawk Group's new EcoFlex ONE backing, Social Canvas, Painted Perspectives, Fractal Fluency and Timeless Tailored Living Product Challenge are Petal Certified, resulting in a net positive impact for both carbon and water. These collections combine Mohawk's state-of-the-art new flooring system EcoFlex ONE with the advanced engineering of Duracolor Tricor fiber to deliver modular carpet that the company believes is an industry leader in durability, cleanability, performance and durability.
Like all Mohawk Group flooring products, Pattern of Time LVT is more than carbon neutral, with an additional 5% carbon offset for a net positive impact. Additionally, this style is made in the USA, utilizing Mohawk's certified manufacturing recycling process to repurpose 100% of the company's post-industrial waste material into new products, and features M-Force Ultra performance technology. All NeoCon products support Mohawk's sustainability efforts and commitment to net zero carbon emissions by 2040, supporting a better environmental and social community, the company said.
During the week, Mohawk Group organizes several events:
Monday 13 June
Cocktails and Conversations

Event Time: 2pm – 4pm
Location: Mohawk Group Showroom 377

i+s Pride Party at NeoCon, co-sponsored by Mohawk Group

Event Time: 4-7 pm
Location: i+s Showroom Suite 10-109
Featuring: DJ Royce Epstein, A&D Design Director
tuesday 14 june
Mohawk Group presents Mistry in the Metaverse

Event Time: 10-11am
Location: Mohawk Group Personal Studio Hub, 304 W. Hubbard Street

Daltile/Mohawk Group food truck event

Event Time: Lunchtime (exact times TBD)
Location: Daltile Showroom, 316 W. Hubbard Street

ASID's Outcome of Design CEU, co-sponsored by Mohawk Group

Event Time: 2-3pm
Location: The NeoCon Presentation Studio, FL2 and streamed live on the NeoCon Hub
Presented by: Royce Epstein, A&D Design Director, Mohawk Group Alan Almasy, Herman Miller, Rebekah Matheny, The Ohio State University Karen McCallum, CBRE Design Collective

Cocktails and Conversations

Event Time: 2-4 pm
Location: Mohawk Group Showroom 377