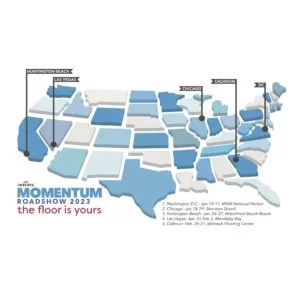 Mohawk Momentum Roadshow 2023 registration now open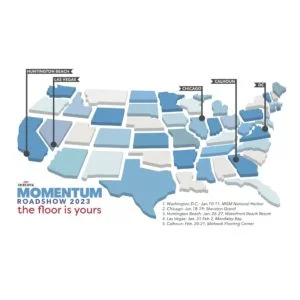 Washington, DC – Mohawk has opened registration for its third annual Mohawk Momentum Roadshow. Themed "The Floor is Yours," the touring show that is by appointment only, kicks off here on January 10, 2023, and aims to provide retailers across the country with the solutions they need for the year ahead.
"There have been so many changes in specialty stores in recent years," said Trey Thames, senior vice president of residential sales. "Mohawk has consistently supported retailers by developing turnkey solutions that help them entice consumers to the store. The Mohawk Momentum Roadshow began as a revolutionary way to reach retailers in unprecedented times and has since become the status quo for how Mohawk helps retailers stand out from the crowd."
Mohawk Momentum Roadshow 2023 travels to three cities for its grand presence at Surfaces in Las Vegas. The roadshow will then make its grand finale at the Mohawk Flooring Center in Calhoun, Georgia, where retailers will get an inside look at the company's headquarters and offer exclusive factory tours.
"Mohawk Momentum Roadshow 2023 demonstrates our continued investment in partnership," said Thames. "We work hand in hand with our retail partners to bring them innovative products, marketing programs and digital solutions. The roadshow may change from year to year, but the goal always remains the same: to enable our retail partners to achieve continued success."
Mohawk Momentum Roadshow is scheduled to stop in the following cities:
Washington, DC: January 10-11, MGM Grand
Chicago, Illinois: January 18-19, Sheraton Grand
Huntington Beach: January 26-27, Waterfront Beach Resort
Surfaces: Jan 31-Feb. 2, Mandalay Bay
Calhoun, Georgia: February 20-21, Mohawk Flooring Center
Registration for Mohawk Momentum Roadshow 2023 is now live on MohawkMomentumRoadshow.com.