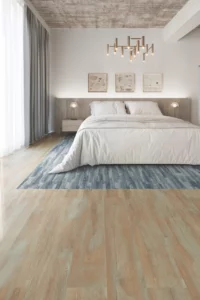 Mohawk Group launches Pattern of Time LVT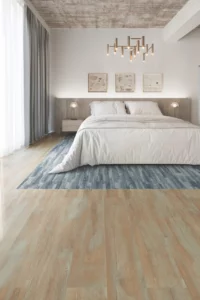 Dalton-Mohawk Group has launched Pattern of Time LVT. According to the company, the line is inspired by the unintended beauty generated in creative spaces where art takes shape. Whether it is a workshop, artist studio or gallery, the primary medium often covers more than just the intended surface. Squirts and drips of paint happen to be left behind in what is often a pleasant, if unplanned, off-the-canvas canvas, the company said.
As the latest addition to Mohawk Group's domestically crafted Large & Local LVT collection, Pattern of Time is designed to combine the comfort and tradition of a wood grain floor with a unique and inventive rise of color in any style. Pattern of Time was previewed to the architecture and design community at NeoCon in Chicago this year, where it was honored with a Best of NeoCon Gold award in the Hard-Surface Flooring: Vinyl/LVT category.
"We are excited to launch another hard surface showing how we drive innovation, lead sustainability initiatives and create designs that have a positive social impact across all product formats and platforms," said Jackie Dettmar, vice president of commercial marketing and product development at Mohawk . "We are constantly challenging ourselves to design and manufacture innovative products with a reduced impact on our planet and our people."
With a variety of LVT styles available, Pattern of Time is designed to bring a sense of individuality to any commercial space. The ultra-wide and long 9.25 x 59 plank format offers great installation options, while the 4.5 mm thickness enables seamless transitions with EcoFlex NXT and EcoFlex ONE backed carpet tiles and enhanced floor-to-floor acoustic performance. A 20 mil wear layer and M-Force Ultra Finish provide enhanced durability and performance.
Pattern of Time LVT is part of the Mohawk Group's Better Together Initiatives – a broad range of programs that help specifiers broaden and maximize the positive impact of their flooring choices. For example, through qualifying hard surface specifications, Mohawk Group will donate to Susan G. Komen on behalf of a customer as part of the Specify for a Cure program.
As Mohawk Group is committed to achieving net zero carbon emissions by 2040 through its Beyond Carbon Neutral program, products like Pattern of Time are designed to meet the highest standards of sustainability. The manufacturer's line of domestic LVT is said to deliver the lowest embodied carbon offering on the market, with carbon values ​​45% lower than the industry average. In addition, these hard-surface styles use a certified manufacturing recycling process to reuse 100% of post-industrial waste material for new products at the Mohawk Group's closed-loop facility here.
Mohawk Group's Pattern of Time is FloorScore certified for indoor air quality and has an Environmental Product Declaration (EPD). An EPD is a comprehensive, third-party certified report that reveals the environmental impact of a product throughout its life cycle.