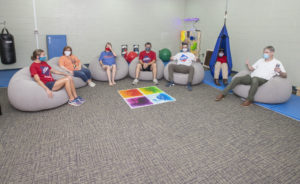 Mohawk Group continues partnership with 'School Crashers'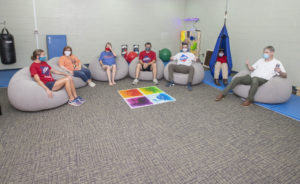 Dalton – Thanks to the School Crashers program and the Mohawk Group, Georgia students and educators recently returned to revamped media centers, sensory rooms, and counseling centers at several schools across the state. Since the first "crashes," nearly a decade ago, the commercial flooring division of Mohawk Industries and the Georgia United Foundation have teamed up to refresh learning spaces and facilitate renovations in underserved public schools.
"We appreciate the partnership with Mohawk, from their input into the assessment process and the assessment of grant applications, to designing assistance for the selected grant spaces and even providing volunteers to help complete the work in the schools," said Liz Riffert, community development officer at Georgia United Credit Union. "Without Mohawk's involvement, we would not have been able to provide scholarships to 57 schools, impacting nearly 40,000 students across Georgia."
Each spring, schools are encouraged to request a facility makeover, sharing a list of specific needs and why their campus would benefit from the program. The Foundation selects the winners from these nominations. The School Renewal Program is designed to unite communities to support local improvement projects for deserving schools. Over the past nine years, Mohawk Group has partnered with School Crashers to donate nearly $155,000 in flooring products. The commercial grade surfaces work together to create exciting new designs that aim to enhance school pride and positively influence the school experience.
"We recognize and understand the importance of the built environment and its effect on learning outcomes," said Cyndie Goss, senior director of the education segment at Mohawk Group. "A fresh, inspiring environment can promote and encourage learning, and when that happens, everyone wins. Beyond students, teachers and staff, their respective support systems at home can also feel the impact."
As an official flooring partner of the School Crashers Program, Mohawk Group has collectively supplied more than 7,000 square feet of modular carpet and luxury vinyl tile to Heritage High School, Conyers; Radloff High School, Duluth; Towers High School, Decatur; and Westside Middle School, Rocky Face. All renovations were completed just in time for the start of the 2022-2023 school year.
Westside Middle School is located in Whitfield County, just minutes from several Mohawk manufacturing facilities here. More than half of this year's total donation from School Crashers floors was specifically earmarked for improving and improving the media center and consulting firms. In addition to updated floors, new paint and flexible seating have teamed up to create a warm, colorful and inviting central hub for members of the school community. In the consultancy, new finishes evoke a safe, welcoming space for parents, students and the counselors who work there to support mental health and well-being.
"We are honored to be part of School Crashers year after year because it is such an important program with a measurable, far-reaching impact," added Goss. "It is a valuable opportunity for Mohawk Group to give back to learning communities, both with our time and resources, while also leveraging our expertise and understanding of the specific needs and opportunities in educational interiors. There is so much to say about the love, support and pride residents of these spaces must feel when community partners step up to reinvest in their campus."