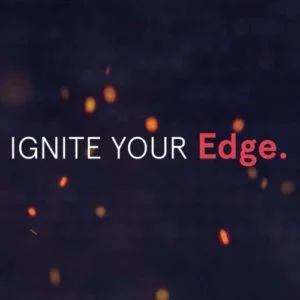 Mohawk Edge Advisory Council sets tone for 2022 Summit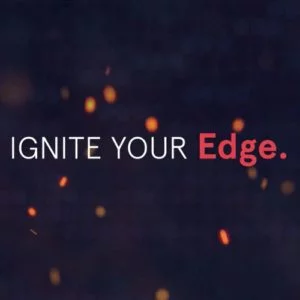 With the Mohawk Edge Summit only six months away in 2022, members of the acclaimed Mohawk Edge Advisory Council are preparing for what promises to be an exciting event focused on education, shared best practices, networking opportunities and, of course, the introduction of new products and programs. . Expectations are particularly high as the event was postponed twice due to the pandemic.
"Our company leadership is really looking forward to returning to the convention later this year," said Craig Phillips, president and CEO of Barrington Carpet, Twinsburg, Ohio, and the longest-serving member of the Mohawk Edge Advisory Council. "[The Edge Summit] convention checks all the boxes on so many things for us. The opportunity to meet Mohawk leadership, see new product introductions, and view new marketing program initiatives makes us all excited to start next year. The convention has always given me a sense of renewed excitement for our industry and our company."
Others, including Ray Daya, director/general manager of the Westvalley Group of Companies, Calgary, Alberta, Canada, and a six-year member of the Edge Council, agreed. "It's a great opportunity to come together to see all the changes and product innovation that Mohawk is bringing to the market," he said. FCNews. "The presentations are always informative and entertaining, but more than that, I look forward to the extraordinary and interesting perspectives presented as part of the Edge conference. It's interesting not only to see what's new, but also to look objectively at what's changed and how it's progressed over the past year."
The fact that members of the Mohawk Edge Advisory Council are frequently consulted on many of the programs and products that eventually become an essential part of the Edge Summit experience is a huge plus. "Mohawk, with community input, is working to strengthen the Edge program," Phillips said. "Edge has helped our business tremendously and the layered approach gives dealers the incentive to grow their business with Mohawk."
As an Edge Premier Dealer (the highest level of Edge), Barrington Carpet has found tremendous value in several key components of Edge. "The customer service solutions expert who helps us secure products, improved financing rates, priority placement online, and resolve priority claims come to mind as the benefits of the Edge Premier program that have helped our business immensely," added Phillips .
For Westvalley Group's Daya, it's about providing dealers with the guidance, tools and knowledge to help them adapt better to a changing retail environment. "Change, or the lack of it, is so often associated with stagnation and stunted development," he explains. "We work in an industry where it is much easier to talk about change than it is to implement it. Mohawk can recognize this very well. Members of the Edge Council come from a hugely diversified background, ranging in size, market segment specialization and number of branches. The culmination of these variables and experience creates a synergy that is highly focused but, most importantly, representative, real and authentic."
Even newcomers to the Edge Advisory Council, such as Brett Bentz, owner of Pennsylvania Wall & Floor, Harrisburg, confirmed the role Mohawk retailers, even the medium-sized dealers, play in Edge's ongoing evolution. "My goal is to ensure that all dealers who invest in Mohawk see the benefits of being an Edge dealer," he stated.. "For the company that runs a multi-store business, they can take a different path to being successful with Edge. For example, how do you take a smaller Edge partner who wants to get bigger and make the same program work for them? That's what I'm focused on."
Meeting of the Spirits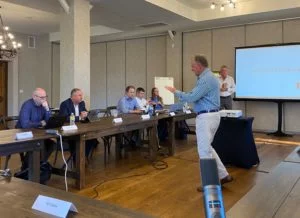 Some of these topics and more were discussed at a special Edge Advisory Council meeting in late June. This is where several councilors — along with key Mohawk executives — gathered to discuss business strategies, program development, and other issues of concern to floor salespeople today. Attendees included: Phillips, Daya, and Bentz, as well as Tom Heffner (About All Floors), Todd Stephens (Dalton Wholesale Floors), Tommy Hughes (Kelly's Carpet), Sonja Betts (Early's Carpet), and Aaron Johnson (Johnson & Sons contractor).
In addition to the core agenda, the meeting was important as it marked the first time members of the Edge Council met in person since the start of the pandemic. "Although we have met remotely in recent years during the pandemic, nothing can replace face-to-face interactions," said Phillips of Barrington Carpet. "In my years people have come and gone from the council, but the relationships that have developed during the council meetings have remained strong between us. I am honored to be included in this group of some of the best retailers in our industry."
Daya of Westvalley Group agreed. "There is no substitute for face-to-face contact," he said. "Edge Council meetings host some of the most dynamic individuals in the flooring industry. There is a huge synergy in the room and the ability to reconnect and participate in the exchange of ideas and information is a great experience."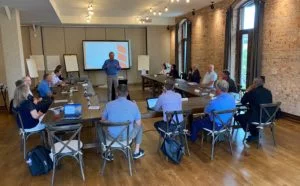 It's that sense of camaraderie, partnership, and purpose that Mohawk executives value most. "This council is very special to Mohawk; everything Mohawk does is done with our retail partners in mind," said Angela Duke, senior director of residential marketing at Mohawk. "Mohawk wants to set the standard for what it means to be a good business partner, and it depends on the feedback from the Edge Council to shape the future of the partnership together. Since the last meeting, we have faced a global pandemic, market shifts, industry changes and supply chain disruptions that have led to numerous price increases. Through it all, Mohawk has helped its retail partners not only survive, but thrive in uncertain times."
Updates to Edge
In recent years, Mohawk has made significant investments to support the success of its retail partners. This includes investments in both production capacity and personnel in the form of professional salespeople. "Mohawk is making these investments to simplify the way retailers do business with us, which was the focus of the Edge Council meeting," Duke said. "Mohawk continues to invest in its specialty store programs (Omnify, Neighborhood Ad Manager and Five Star) to help retailers run their businesses."
During the meeting, the Mohawk team reviewed these important updates with the municipality and asked for feedback. "One of the things I look forward to most when we meet is the dealer roundtable," Phillips noted. "The roundtables give us the opportunity to present a list of priorities to the Mohawk leadership. We sit together without Mohawk staff in the room to discuss pain points and opportunities to improve the dealer experience with Mohawk. We then come back with the leadership to discuss our priorities. While Mohawk doesn't always give us everything we ask for, Mohawk has made many changes over the years that have improved the dealer-manufacturer relationship. Mohawk listens, they understand, and they continually strive to improve the independent dealer's experience with their business."
Direct access to top executives at Mohawk is worth the time and expense alone, members say. "Edge Council has given me the opportunity to meet and discuss real-world issues and challenges floor dealers have with Mohawk's senior leadership," Phillips added. "Mohawk is committed to independent retailers and it has never been more clear. It starts at the top; Paul DeCock attends our meetings, listens and gives his insight to make me a better flooring dealer."
Harrisburg Wall & Floor's Bentz — though fairly new to the borough — also said he sees the benefits. "We spent three days listening, analyzing programs and looking for new products and ideas," he said. "One thing I have learned is that Mohawk took the supply chain issue very seriously and has taken big steps to improve the situation. Some of this is with new, state-of-the-art equipment. It was a very productive meeting."
(Find out more about this story in an upcoming issue of FCNews.)