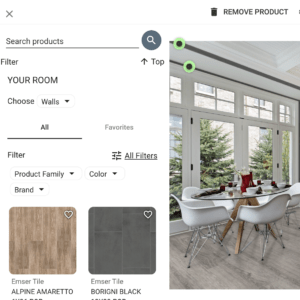 Mobile Marketing, Roomvo update room visualizer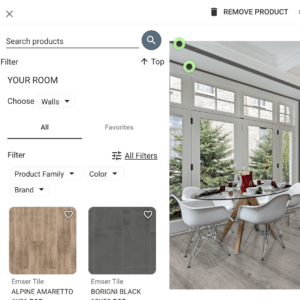 Pottstown, Pa.—Mobile Marketing and Roomvo took their collaboration to the next level with an upgrade to the room visualizer, which now includes walls and countertops.
"When homeowners redecorate or remodel a room, they're doing a lot more than just the floors," said Carole Cross, founder and CEO of Mobile Marketing. "Now they can visualize and see their floors, along with countertops and walls. This gives them a better idea of ​​what their room will look like."
The Ambassador Mid-West Floor sales team has begun using the visualizer's increased capabilities to show homeowners options for new backsplashes in addition to floors. "We are excited about the addition of walls," said Laura Taylor, Showroom Manager, Ambassador. "On the construction side of our business, it is common to install backsplashes at the same time as floors. Now we can help customers visualize more than the standard 3 x 6 tiles. We can help them see the full potential of their space. We are planning to use the visualizer to close deals and increase sales."
The visualizer provides retailers with detailed analytics on Mobile Market's insight portal that helps them make data-driven business decisions, including inventory management and promotion planning, the company said. Retailers can also see specific information about what people view on the visualizer, including which products their potential customers view most often, which rooms the home customers view, and whether they use their own photos or stock photos. This functionality enables retailers to provide their customers with a comprehensive store-to-door experience.
"We have a constant mission to improve the shopping experience for homeowners and help retailers grow their businesses," said Pawel Rajszel, Founder and CEO of Roomvo. "By providing retailers with key insights relevant to their customers' shopping behavior, RSAs are better positioned to drive value-based sales conversations that lead to faster consumer purchase decisions and higher margins."
Collectively, Mobile Marketing and Roomvo said they power the website and visualizer for the largest flooring vendors in North America, and these enhanced services are available exclusively for products from more than 100 brands currently on the joint platform.