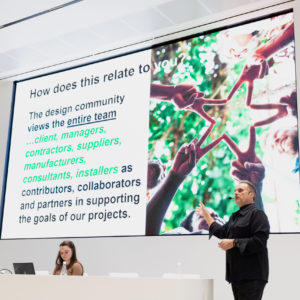 MILEstone hosts first sustainability summit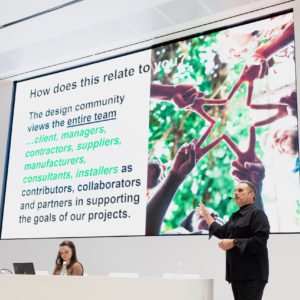 Clarksville, Tenn.-MILEstone, the distributed brand of Florim USA, hosted its first "Sustainability Summit – Behind the Design". Held at the manufacturer's newly opened event center and showroom, the event featured internationally and nationally recognized speakers, with a focus on sustainability in both commercial and residential design spaces. With more than 60 in attendance, the event provided tools, resources, knowledge, information and background on what it means to be truly sustainable, according to the show's organizers.
"Florim USA strongly believes in education and keeps our partners and customers informed on a range of topics when it comes to sustainability," said Rodolfo Panisi, CEO of Florim USA.
Eric Ezechieli, international speaker and co-founder of NATIVA, spoke about how organizations, regardless of size or structure, can use their power and platform for good to address the urgency of the climate crisis. Additional guest speakers included: AJ Paron, executive vice president of Sandow Publishing; William Paddock, co-founder and director of WAP Sustainability; Bill Griese at the TCNA; Brett Shwery of Interior Design Americas; Michele McMinn of Gresham Smith; Michele Espeland of Cuningham; and Florim USA's internal environmental and sustainability manager, Don Haynes. Topics ranged from 'Net Zero Achievability', 'The Truth Behind Greenwashing and Carbon Offsets', 'Sustainable Design Trends' and MILEstone's current and future initiatives to become carbon neutral by 2030.
BPI's Natalie Salazar said she's looking forward to future events. "Every time we bring people from our industry together in a room… amazing things happen," said Salazar. "We never stop learning from each other; and it gives us the energy to do more. We look forward to future events."
Future events are planned to range in topics such as calibrated porcelain tiles and best installation practices and methods, the company said.