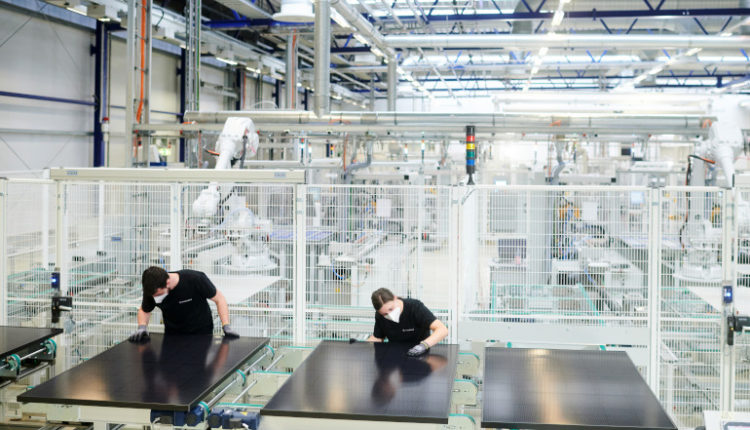 Meyer Burger chooses Arizona for U.S. solar panel manufacturing facility
Swiss solar technology company Meyer Burger has announced it will set up a solar panel manufacturing facility in Goodyear, Arizona, with production expected to begin in late 2022. The facility will initially have a capacity of 400 MW with the potential to scale up to 1.5 GW.
Meyer Burger also has a production facility in Germany that has recently ramped up production. The company said Arizona was chosen for its manufacturing center in the US because of its proximity to customers.
"Meyer Burger is excited to establish its roots in Arizona and expand our footprint into the United States," said CEO Gunter Erfurt. "My sincere thanks to our partners in Arizona for their support during this process. Solar energy will be critical to meeting the US and global clean energy goals, and our proprietary heterojunction cell technology and proprietary SmartWire module technology enable us to manufacture products of the highest quality and performance to help our customers economically. competitive solar components."
The Arizona plant will manufacture heterojunction technology (HJT) modules for the residential, commercial and utility markets. The site is expected to create 250 manufacturing jobs and possibly 500 jobs on a 1.5 GW scale.
Meyer Burger has entered into a lease as the first tenant of a recently constructed new building in Goodyear. The company has already started hiring key personnel to support the installation of equipment and the initial start-up of the facility. The company plans to hire people until 2022 to train staff and speed up production.
"I'm thrilled to welcome Meyer Burger to our community," Goodyear Mayor Joe Pizzillo said. "The decision to make a major investment in our community demonstrates that Goodyear is a prime location for advanced manufacturing companies. Our highly skilled workforce, modern infrastructure and low operating costs have created an environment in which businesses can thrive. This project will create hundreds of new jobs and I thank Meyer Burger for his investment in our city."
Goodyear, Arizona, is no stranger to solar panel manufacturing. The city was once home to Suntech's US manufacturing headquarters. The Chinese solar panel giant previously opened a 50 MW . facility in October 2010 closing the site in 2013. The company cited the high import tariffs on Chinese solar cells and aluminum frames and the then global oversupply of modules as the reason for the closure of the factory.