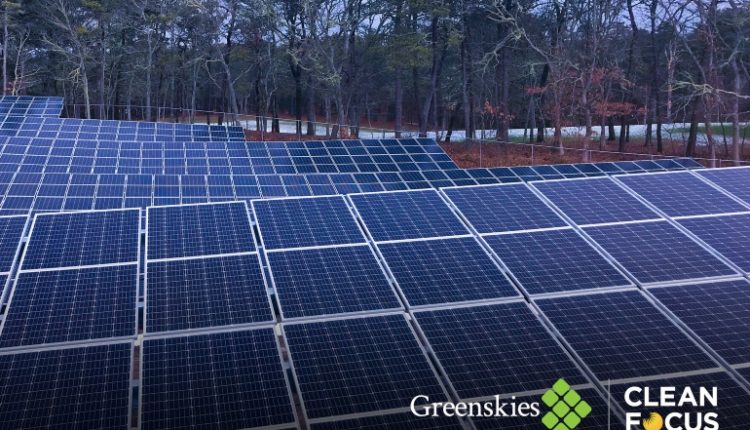 Massachusetts golf course drives away emissions with 273-kW solar project
Greenskies clean focus, in association with Cape and Vineyard Electric Cooperative (CVEC), has completed the installation of a double roof and ground-mounted solar panel totaling 273.7 kW at Cranberry Valley Golf Course in Harwich, Massachusetts.
The more than 720 solar panels on the golf cart shed and the adjacent site will generate more than 350,000 kWh of clean energy annually. The array will provide 100% of the electrical load at the Cranberry Valley Golf Course site. In addition, Greenskies has built an upgraded panel into the golf cart shed to facilitate solar car charging.
"We are thrilled that another CVEC member community is realizing the benefits of renewable energy," said Maria Marasco, CVEC Executive Director. "As a result, the city is making energy cost savings and reaping the benefits of using solar energy."
Harwich is one of 25 CVEC parishioners in Cape Cod and the Islands.
"Greenskies is excited to help CVEC add more clean, renewable energy to the city of Harwich," said Stanley Chin, president and CEO of Connecticut-based Greenskies Clean Energy. "The Cranberry Valley Golf Course facility will meet the community's growing clean energy needs and deliver significant savings to the CVEC cooperative."
Greenskies developed, built and will operate and maintain the system, while its affiliate, Clean Focus, financed and takes ownership of the system.
Together, the Greenskies Clean Focus team and CVEC have completed more than 22 MW of solar installations at 10 locations on Cape Cod and Martha's Vineyard, and another solar system is underway at Oak Bluffs Elementary School.
News item from Greenskies Clean Energy