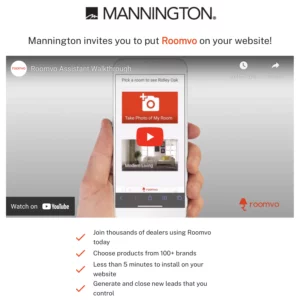 Mannington partners with Roomvo to support dealers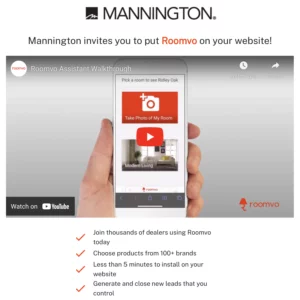 Salem, NJ—Mannington has partnered with Roomvo to allow retailers using their tools to add Mannington as a manufacturer to Roomvo applications.
"At Mannington, we recognize that dealers want to keep their customers on their website," said Lori Keith, VP, residential marketing. "Both Roomvo and Mannington received requests for Mannington floors to be part of the platform. To better support our dealers, we have partnered with Roomvo to ensure that all Mannington floors are available on the platform."
A visualizer is a powerful tool for customer engagement and for closing deals, the company said. It allows consumers to easily evaluate different designs in their own home. It also empowers sales reps to add more value to customer interactions. Roomvo would seamlessly blend the virtual and the real with external and personal interactions for a true omnichannel experience.
"Flooring is one of the biggest purchases homeowners make," said Roomvo CEO Pawel Rajszel. "Consumers want to be sure that their investment looks good. Roomvo removes uncertainty by making it easy for users to take a picture of their space and replace the floor in seconds."