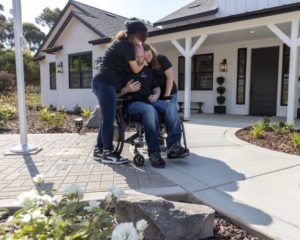 Mannington partners with Gary Sinise R.I.S.E. Foundation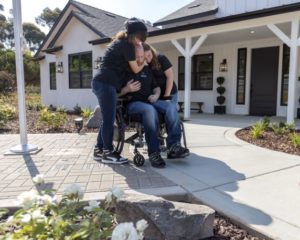 Salem, NJ—Mannington Mills recently partnered with the National Wood Flooring Association (NWFA) to support the Gary Sinise Foundation RISE program, which builds custom smart homes for critically injured veterans. Mannington donated hardwood floors for the new Vista, California, home of U.S. Marine Staff Sergeant (Ret.) Stuart DiPaolo who has deployed multiple times to Iraq and Afghanistan.
During a training exercise at Camp Pendleton, DiPaolo suffered life-changing injuries when his SUV rolled over a weathered track and the roll bar shattered his head. His neck and every bone in his face had been broken, his right carotid artery had been severed, and his left eye had become detached from the optic nerve. DiPaolo lost his sight in one eye and his left arm and leg were paralyzed.
"Many Mannington employees and their families have served in the military, so we took the opportunity to partner with the NWFA and the Gary Sinise Foundation," said John Hammel, Mannington's senior director of hardwoods and laminate. "We were honored to supply our Cider Mill Oak hardwood floors for this home. Not only does it look good, but it also creates a durable, continuous surface for easy wheelchair navigation. We are grateful to Staff Sergeant DiPaolo for his service and hope he and his family will enjoy their new home for many years to come."