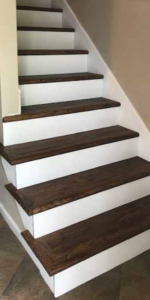 Mannington awarded patent for SimpleStairs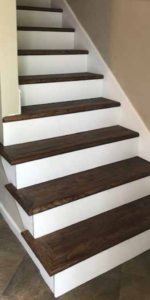 Salem, NJ—Mannington Mills has received a patent from the United States Patent and Trademark Office (USPTO) for its SimpleStairs product line. The patent relates to the manufacturing method and equipment used to manufacture SimpleStairs in the United States. According to the company, SimpleStairs is a stair tread that fits together exactly and has the same shine, texture and performance as the selected Mannington LVT collections that complement it.
"In addition to the same appearance as the floor, SimpleStairs offers the same scratch, wear and fade resistance of our Realta SPC and Glue Down collections. It's also waterproof," said David Sheehan, vice president of residential hard surfaces, Mannington.
According to the company, the product offers retailers an improved stair step solution and a trade-in option for a better looking, better performing and faster installation. "It's an incremental profit generator for our retail partners," Sheehan added.
Built on a concept originated by Bob Pitman, retired president of Burke Flooring, the inventors to whom the patent was awarded are Mannington employees Keith Bodendorf, project engineer; Dennis Bradway, product and standards manager; and Joe Finlaw retired installation manager. "This patent is another example of our employees' innovative spirit and commitment to customer satisfaction," said Zack Zehner, president of the residential business. "SimpleStairs provides an additional opportunity for retail sellers, as well as a design solution for consumers."
Mannington said it plans to expand SimpleStairs into its award-winning Adura Selling Solution offering in 2023.