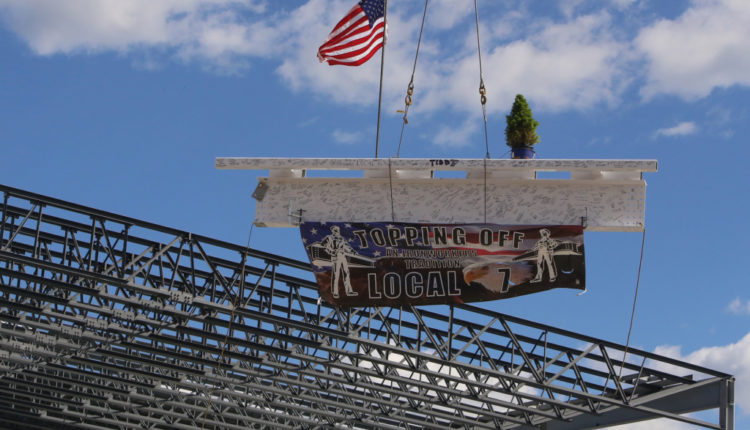 Lowell High project bidder omitted details about worker death – Lowell Sun
LOWELL – New details have emerged showing that a Lowell High School HVAC project and plumbing sub-provider omitted information about the 2019 death of an employee, originally from Greater Lowell.
In an email Friday to City Manager Eileen Donoghue shared with The sunThe Executive Director of the Foundation for Fair Contracting, Karen Courtney, provided documentation that she said showed that Harold Brothers Mechanical Inc. the city had been misled about the circumstances surrounding the death of employee Russell MacPherson in March 2019.
According to Courtney, who provided public records she obtained from the State Department of Industrial Accidents (DIA), Harold Bros. nor disclosed that her insurance company no longer disputes liability for MacPherson's death, and that workers' compensation payments and other benefits were ultimately awarded to his widow.
"The city shouldn't face this kind of behavior," Courtney wrote. "Not only is the integrity of the city at stake, but also the health and safety of workers [who] will help build the high school. "
According to his 2019 obituary that walked in The sun and the Cape Cod TimesMacPherson, 71, was born in Lowell and lived in Tewksbury before moving to Dennis, where he lived at the time of his death. He was a plumber by trade and over the years led MacPherson Plumbing and Heating and Standard Plumbing and Heating, among others, and had served as deputy plumbing and gas inspector for the City of Tewksbury.
Courtney wrote in response to an initial memo that Donoghue submitted to city council last week, ahead of a full movement response that will be presented to the council on Tuesday. Councilor Rita Mercier first asked Donoghue to "pay close attention to information about a bidder" about the project during the last council meeting.
In a Dec. 31 letter accompanying Donoghue's motion response, Patrick Harold, president of Harold Bros., said the company initially did not disclose the death due to the employee's pre-existing condition and that he was performing warranty work to address a leak. to repair. than an ongoing construction project. The company decided to change its answer and provide additional information "with great caution," wrote Harold.
That information states that while repairing a boiler leak in Centerville (Barnstable) on March 7, 2019, MacPherson had a heart attack caused by his chronic obstructive pulmonary disease, or COPD. It noted that the workers' compensation insurer "is rejecting the claim based on the cardiac event, which it says is unrelated to the work environment."
"Nevertheless, Mr. MacPherson contracted the heart condition on the job and died of the event," it says. This was the subject of one OSHA citation which was eventually dissolved without any acknowledgment of liability by Harold Brothers. "
Courtney pointed to a joint DIA memorandum prior to the hearing stating that "the insurer / self-insurer has accepted liability for the work injury."
"Harold Brothers' filing of its insurance company's initial denial, without disclosing that the insurance company has now accepted liability, should result in the city disqualifying this contractor from the project," wrote Courtney, who stated that the company should not be acted in good faith.
In a partially redacted August 23, 2019 letter, Dr. Scott Slater of Cape Cod Healthcare Pulmonary Medicine "has reasonable medical certainty" that MacPherson's injuries were "causally related to his workplace exposure" on March 7 of that year. Slater also wrote that the work incident four days later was "a major, but not necessarily predominant, cause of his death."
The case was referred to DIA Administrative Judge Michael Williams on August 27, 2019. On September 3, 2019, Williams ordered the insurer to pay the plaintiff for benefits under four different provisions of state law, including death, funeral, medical and attorney costs. .
Courtney said MacPherson "did not die for tightening a bolt," refuting Donoghue's words in the memo.
"He died after being sprayed with pressurized boiling water and inhaling propylene glycol aerosols," Courtney wrote, citing an OSHA report. "While it appears that his existing health condition also contributed to his death, we are extremely concerned that the more direct causes of boiling pressurized boiling water and dangerous chemicals have never been revealed."
She also expressed concern that the company "has the continued nerve to claim" that in light of these public records, it did not believe that MacPherson's death was caused by his workplace injuries. Courtney urged the city to get Harold Bros. to reject. 'bidding and doing business with responsible contractors.
The Foundation for Fair Contracting of Massachusetts is an organization that promotes fair competition in the public construction industry and oversees compliance with public bids and applicable wage laws.
"My concerns were that bidding laws must be enforced, and people need to know that when they bid on a project, there is fair competition and people are truthful about their track record," Courtney said Monday. "In this case, we have reason to believe that there have been some serious omissions, and that doesn't seem fair to the other contractors."
She said that Harold Bros. first came on her radar when the company was the lowest bidder on the Arlington High School project last year. Arlington, in November, and Sharon, in January, both ultimately turned down the company's bid to do HVAC work on their high school projects, citing omissions on OSHA citations, according to letters obtained by The sun.
Donoghue, Mercier and Harold did not immediately respond to requests for comment.