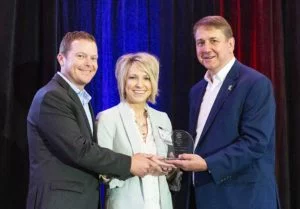 Louisville Tile named 'Top Large Family Business'
Louisville, Ky. – On May 24, Louisville Tile, a family-owned company headquartered here, was awarded Best Large Company of 2022 at the Family Business Awards & Excellence Awards presented by the University of Louisville College of Business.
The Family Business Awards recognize outstanding achievements in family businesses. These awards are presented annually to alumni and business innovators whose distinguished careers exemplify the local, national and international impact of the College of Business and its community. The winners were selected for their leadership within their companies, communities and industries as they sought to cultivate and enhance their respective legacies, according to the company. Criteria for the category Large Family Businesses is that the company must have at least 151 employees. Louisville Tile Distributors said it currently has 225.
Travis Wilcox, vice president of National Accounts, and Crosby Hall, executive vice president of corporate resources (brother and sister, third-generation family owners) accepted the award, presented to them in person by Todd Mooradian, dean of the University of Louisville College of Business.