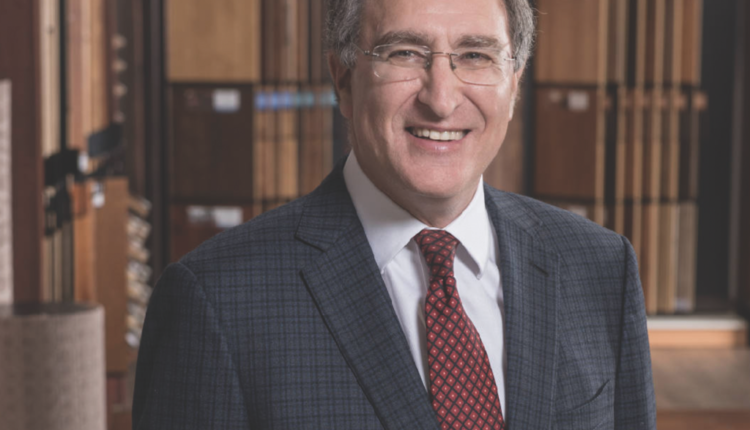 Looking back: Jeff Lorberbaum – Floor Covering News
All the right steps: Mohawk Industries chairman and CEO leads the company through the highs and lows
What he saw in 1986…
In the 1980s, there were hundreds of small carpet factories scattered throughout northwestern Georgia, and carpet and rugs made up about 80% of the carpeting sold in the US. At the time, most carpet manufacturers sold their products through distributors, so the relationship between the manufacturers and flooring retailers was largely indirect. Mohawk had previously launched the industry's first co-branding program with ColorCenter, providing a marketing advantage for our retail partners.
What do you think was the first sea change after 1986?
A big difference with that time were the sales channels. There were more independent retailers and they reached customers through newspaper advertisements and mass mailings. Department stores and wholesalers sold a lot of floors at the time and helped set trends. The do-it-yourself chains had not yet established themselves nationwide. When Stainmaster was released, stain cleaning was a major concern of all carpet buyers. I have never seen a new product innovation so quickly. In a very short time no one wanted carpet without stain resistance.
Shortly thereafter, the extrusion of olefin by the carpet manufacturers created a new value proposition and led to the evolution of residential Berbers. Olefin has moved from a niche alternative to nearly 30% of the industry's volume. We were able to create highly stylized carpets that were durable and transformed both the residential business and the Main Street category of carpets.
The other turnaround this caused for the industry was the introduction of extrusion activities by carpet manufacturers. The carpet manufacturers who invested in fiber production provided such efficiencies that it became a catalyst for further industry consolidation, eventually leading to the departure of chemical companies as major fiber suppliers to the industry.
How was the industry different in the mid-1990s, when you took control, compared to 1986?
In the mid-1990s, carpet and rugs still made up about two-thirds of floors sold in the US. Many smaller manufacturers were still producing carpet, often for a specialized customer base, and independent distributors played a greater role. Ceramic tiles were limited in design and dimensions; sheet vinyl was an inexpensive product with limited uses; processed wood came into its own; laminate – at the time – was a rough alternative to wood; and LVT did not exist.
Mohawk went public in 1992 and used our stock as currency to expand the business by further consolidating the carpet industry. We have bought many competitors and have grown from a high-end niche manufacturer to a broad supplier of all carpet categories, from standard to premium. This created the foundation that enabled Mohawk to become the largest flooring manufacturer in the world.
At the same time, we have significantly enhanced our value to our customers by vertically integrating the business. We have gone upstream by building a national distribution and trucking system that allowed us to provide superior service to customers and backwardly integrated into chemicals, bottle recycling, extrusion and backing manufacturing. With all internal investments and acquisitions, we have grown by providing our customers with better products, better service and better support.
Looking back over the past 35 years, what are the first things that come to mind about this industry?
How lively it is. How dynamic and resilient the people in the industry are. How it develops. The products and styling have become much more sophisticated. The performance of our floors has improved significantly, with greater durability and easier maintenance. The installation of our products has become better, easier and cheaper. We've given consumers more options and more value, and retailers are translating that into higher sales and margins. Retailers help consumers understand their alternatives and make the right choices. Consumers can get extraordinary help with the whole process or do it themselves on a budget. We have reduced our industry's environmental impact and continue to improve the sustainability of our products and processes. The industry has created a tremendous opportunity for all of us who participate in it and will continue to do so.
What could this industry have done better in the past 35 years?
We must continue to focus on making it easier for retailers to sell our products to consumers. Typically, consumers buy flooring about once every seven to ten years. Think about how many product changes occur between those purchases. Consumers walk into a flooring store and feel overwhelmed by the choices. The industry should improve the value we provide to consumers by focusing more on the fashion and benefits of each product and how it enhances their homes and workplaces. Each product category and price range has unique design and performance features. By better communicating both, consumers would buy higher-value products and be more satisfied with their selection, while increasing industry margins.
Were there any turning points in the past 35 years that changed the industry forever?
There were many – the carpet consolidation of the '80s and '90s brought economies of scale and increased investment in technology. It also created direct relationships between the manufacturers and retailers to improve the alternatives for consumers. Mohawk accelerated the change by expanding our business to all flooring products. We are a cyclical industry with major recessions in line with any economic slowdown due to rising interest rates and declining employment. Our products are highly durable so replacement can be delayed when consumer confidence declines, making floors more volatile than most industries. The 2008 recession was caused by a housing market collapse and it took our industry five years to recover – this was completely unique and hopefully won't happen again in the future. The recent collapse caused by COVID-19 had a different result: our products recovered faster as families spent more time in their homes and used their disposable income to renovate or buy larger homes.
The best decision you've made in the last 35 years.
The best decision we made was to expand the scope of our business from a US carpet manufacturer to an international supplier of all flooring products. It enabled us to dramatically expand our potential markets, increase our growth opportunities and introduce many retailers to the benefits of a comprehensive product offering to meet any flooring need. That was not an easy decision. Our entry into ceramic tile in 2002 had significant risks given the relative size of Dal-Tile when we acquired the company. Once we found the keys to managing the ceramic business, we were able to expand into the other regions and product categories with great success. Today we manufacture and sell every type of floor covering in more than 170 countries around the world with leading brands in every geographic region and product category.
Happiest decision you've made.
When we acquired Unilin, we recognized the quality of their products and valued their manufacturing operations on both sides of the Atlantic. We knew that hard surfaces were becoming more and more popular, but we didn't expect the Uniclic installation system to become the global industry standard used in most LVT, laminate and wood. There are many decisions that turn out better or worse than you expected.
Who are the first people that come to mind when we look back on the past 35 years?
The first people that come to mind are the independent retailers in the industry, because determination that makes our industry thrive. I know the challenges of running a business and I respect anyone who invests their savings, makes great personal sacrifices, and spends untold hours making sure their dreams are a success. Over the past 35 years, they have been tested by recessions, wars, pandemics and technological change. They are the backbone of our industry and their courage and perseverance is all too often undervalued. There are many retailers who have driven the industry with different strategies and models. You have the success of the major regional retailers such as Carpet Exchange, Airbase Carpet and Brewer Carpets. There were companies satisfying the apartment and new construction markets, such as Flooring Services, Weisenbaker, Redi and Rite Rug. We have Empire, which implemented a national shop-at-home strategy, and CCA, Abbey and Carpets Plus, which improved the execution of many independent retailers. There are too many excellent retailers to list them all.
Looking back over the past 35 years, who do you think are the people who have really made a difference in this industry.
That's a long list, because our industry has always had exceptional visionaries. All the people you interview for this anniversary issue were industry leaders who took significant risks and challenged the status quo of the flooring market. They all created new strategies to bring value to the market and introduced new products, features and benefits that were truly innovative at one point or another. They changed the way products were manufactured, distributed and sold to consumers. We have just laid the foundation for the next generation that will shape the flooring industry for the next 35 years.
Were there people who deserve recognition who have spent their careers behind the scenes?
All the innovations we bring to market depend on the talented people in production turning ideas into products. For example, the team at our bottle recycling plant has made a huge difference to our business and the value we provide to customers. They came up with ways to separate, clean and process recycled soda bottles into clean, high-quality polymer and fibers. This enables us to recycle 7 billion bottles per year, protect the environment and deliver superior carpets to consumers.
What were some of the surprises?
Many people would be surprised at how consumer preferences have evolved over time and how different retail models have emerged to satisfy different groups of consumers. The styling, quality and value of floors has improved dramatically through technology and scale of production. But I think probably the biggest surprise I've seen, the biggest incremental change, is the fact that 40 years ago polyester had a terrible name. Polyester is now 80% of the face yarn of home carpet. I think we all knew that polyester, when manufactured correctly, was a good product.