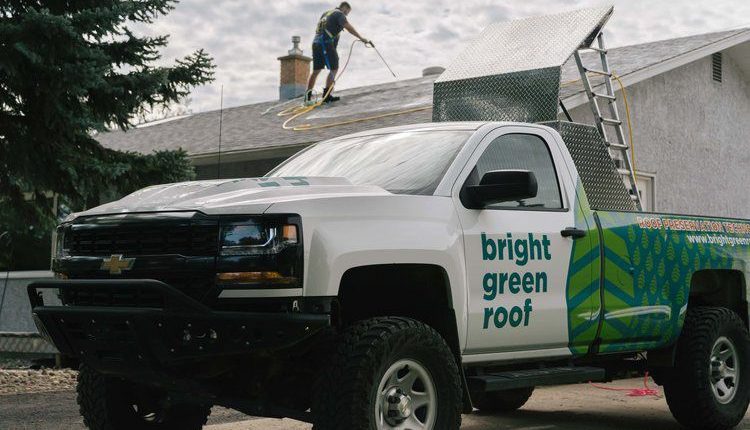 Local business offers eco-friendly roofing alternative
Article content
A local couple offers an environmentally friendly alternative to roof maintenance.
Karen Brown and her husband Gerald recently announced their roof protection company Bright Green Roof. "My husband and I moved to Fort Saskatchewan about 25 years ago and we recently started our own roof protection business," explains Brown.
"BGR has 15 locations in Canada and the US and we are proud to open a location in Fort Saskatchewan. Right now, we currently serve Fort Saskatchewan, Edmonton and all surrounding areas, "she added.
The chemical technology used by the local company is relatively new and offers an alternative to shingles replacement, which Brown noted is filling up our landfills at an alarming rate.
"Our biobased oils are designed to replenish the bitumen in the asphalt shingle and at the same time return it to its original state. Flexible and malleable, our product is designed to aid in the UV protection of your existing asphalt roof. Our process is specifically designed to improve water resistance to rain and snow and to restore shingles to their long-lost shine, "says Brown.
Article content
A recent study in the Winnipeg area reported that the Canadian city produces more than 30,000 tons of tear-off shingles each year that end up in landfills and take about 300 years to break down.
"We live in Alberta and feel it is everyone's responsibility to protect our environment in every possible way," said Brown.
She explained that the company uses a product that is 100 percent biobased and environmentally friendly to extend the life of shingles at a fraction of the cost of a roof replacement. "Our product gives the homeowner an additional 10 years of roof life and comes with a 5-year warranty," she said.
"What it does, it's an oil that we spray on the asphalt shingles and it rejuvenates them … and protects them from the weather," continued Brown.
Brown said that preserving roofs is not only a positive for the environment, but also a better option economically.
"I know I hate spending money on a roof because it's a necessity, you don't get much fun out of it and it's so expensive," she explained.
"My dad was an engineer and he used to say your house is only as good as your roof, so once it's gone you have problems and this is one fifth of the cost of replacing the roof," said Brown. "In addition to the financial savings for the home owner, this also has a major positive impact on the environment and our landfills. This is a win-win situation for both the consumer and the environment. "
Karen Brown can be reached by phone at (780) 699 6267. For more information, visit Bright Green Roof on Facebook and Instagram, or at the company's website, brightgreenroof.com.
jhamilton@postmedia.com