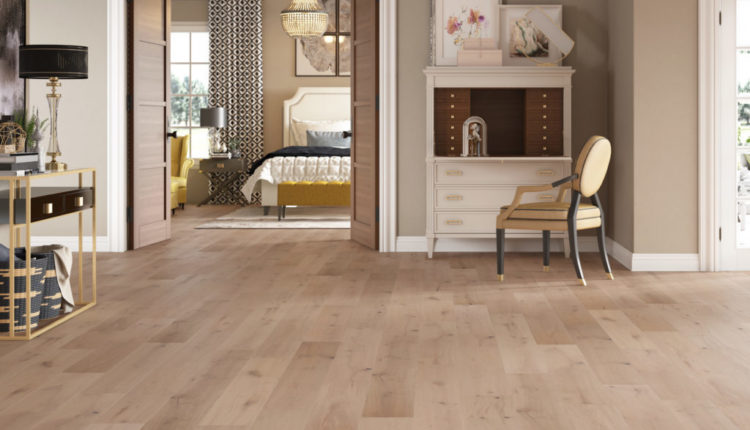 LM Flooring unveils largest product launch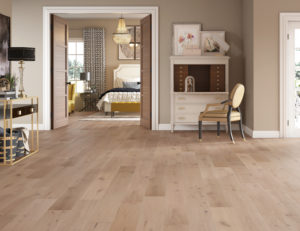 Carrollton, Texas—LM Flooring has announced its largest product launch in the brand's 20-year history with four new collections and expansions of four of its most popular lines, a total of 55 new SKUs launching in the fall.
As a leader in parquet flooring, LM Flooring's broad portfolio includes wide, long, textured products in both cut and sawn configurations. According to Kevin Whaley, vice president of sales and product, LM has a strong reputation for innovative products and speed to market. "Our aggressive hardwood strategy is focused on improving the mix and delivering value-added products to our retailers that they can sell to their customer profitably," said Whaley. "We focused on several ways to provide customers with the best product at the best price, backed by our renowned quality."
Two new flagship collections: The Reserve and The Glenn
The Reserve and The Glenn offer the same colors and patented reactive staining techniques. The Reserve offers a fixed width of 7.5 inches; and The Glenn a multi-width 4-inch, 5-inch, and 6.5-inch option in the same box. Both collections are ½-inch thick with lengths up to 75 inches.
LM Flooring makes its own reactive stains for these collections in-house, giving the wood an aged patina, bringing natural color variation and character through each plank. It brings all the vibrant colors of nature into your home, with contemporary distressed colors that take sophistication and elegance to a new level, the company said.
LM Flooring said it has expanded its capabilities to produce wider and longer products and to create more advanced surface treatment and texture techniques, such as wire brushing and reactive staining, such as those used in The Reserve and The Glenn collections. "We have developed a highly structured process to ensure consistent color standards in this highly varied image," explains Whaley. "Rather than a stain covering or masking the grain and inherent beauty of the white oak, our process reacts with the natural tannins in the wood to enhance the grain and bring the true color potential of the species to the surface. The best way to describe the difference between a traditional colored product and our proprietary process is as the difference between watching an early 90s biggie and a high definition LED flat screen available today."
Other new introductions include:
Solano, a 9/16-inch-thick dry-sawn European white oak of select quality. Very contemporary, Solano is lightly brushed, with a focus on smooth and sleek design with a light and natural color influence for the eight SKus in the collection. The shelves are 7.5 inches wide with lengths up to 75 inches.
WaterfordDry-sawn 9/16-inch-thick North American hard maple, is a new floor created in response to growing customer requests to offer alternative species to white oak in wide and tall sizes. The hard maple in dry sawn format has a very interesting and attractive grain pattern that most consumers would not expect from this species. LM gives it a subtle yet inviting texture using improved wire brushing techniques.
Line extensions to the LM engineered hardwood portfolio include:
hermitage: Wide Plank 9-inch, dry-sawn European white oak in planks up to 86-inch, in three new colors – Sylvan, Of the, Georgetown – in lighter and natural tones.
Bentley Premier: Bentley Premier is a select white oak in a ½-inch format with a 2 mm sawn surface. LM expanded this collection with more lamps, natural, white and taupe.
Lauderhill: This entry-level product in a length of 3/8 x 6.5 x 72 is available in six new colours: Weldon, Camino, Penrose, Covington, Castle Blanc and Anchor.
Originally made in Shanghai, China, for the past two years LM Flooring has transferred all of its products to AHF Products' factory in Sihanoukville, Cambodia. At the same time, the company has rapidly expanded capacity from 10 million square feet per year to 37 million square feet, adding four color lines, as well as 30% more pressing and profiling capacity.
In addition, the working population has increased by 28% to 900 people. In 2022, the plant will operate at a capacity of 55 million square feet. The Cambodia facility not only serves LM Flooring, but also supplies other leading AHF Products hardwood brands, including Bruce, Hartco and Robbins.
"Our goal is to provide a complete and well-rounded product offering to our LM distributors and retailers from one factory location," said Whaley.