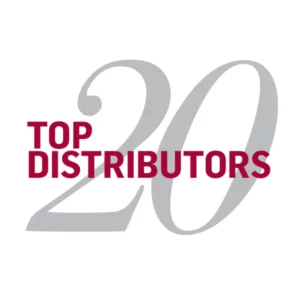 Leaders distance themselves from the pack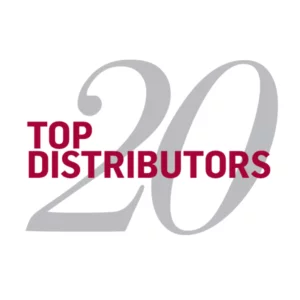 After what was a record for many in 2021, floor distributors were unsure what to expect in 2022 given inflationary pressures, interest rate hikes and fears of a recession. But if the COVID-19 era has taught us anything, it's that nothing in business today is normal, let alone predictable. As it unfolded, the majority of FCNewsTop 20 distributors forecast sales increases for 2022, including some in double digits.
"On the road to COVID-19, no one would have told you that 2020 and 2021 would be two of the best years," said Jeff Striegel, president of Elias Wilf, Owings Mills, Md. "This is the new normal. At the same time, it's unrealistic to expect this to continue."
The upward trajectory comes with the caveat that as sales increase, unit volume decreases by a greater percentage — an indication that most growth is happening organically. One such example is Tri-West Ltd., now the No. 2 ranked distributor with projected revenue of $400 million in 2022, an increase of over 20% from the previous year. "In our case, 100% of our growth has been organic," said Dave White, president of the Santa Fe Springs, California-based distributor. "Our geographic location covers more than a third of the US. The majority of our business is in Southern California and Northern California, but the Pacific Northwest market is also doing very well for us. We expanded to Colorado six years ago and it's going like crazy. It is the growth that falls within our geography."
White said the company is still taking very large orders from customers who have money and are willing to spend it on home improvements.
Other distributors see similar activities. "The main drivers driving today's business is demand across all segments and frankly all categories," said Scott Rozmus, president/CEO of FlorStar Sales, Romeoville, Illinois. in both material and freight costs have dampened demand. However, consumers are still spending money. We just need to work to support our dealers' efforts to encourage that spend within our industry."
While interest rates and material costs are rising, several distributors say the construction/multi-family segment has been consistently strong in 2022 and should remain so in 2023, despite many challenges. The commercial segment, which has lagged behind other flooring sectors, has been catching up since 2020 and appears to be in growth mode by 2023.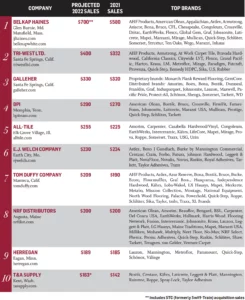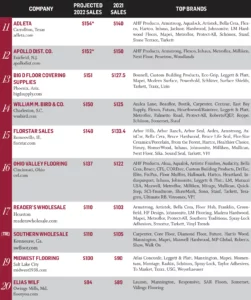 Housing activity
The builder/multi-family channels really represent a dichotomy. On the one hand, the number of homes under construction rose to 1.67 million in May 2022, the highest number in government data until 1969. A chilling effect on both new home sales and cancellations. According to data collected by John Burns Real Estate Consulting, which reported that 17.6% of contractor contracts fell through in July, homebuilder cancellation rates have more than doubled since April 2022, compared to 8% in April and 7.5% in July. 2021.
Rising mortgage rates in combination with persistently high sales prices are undercutting the overall housing market. The Commerce Dept. reported that permits for future housing construction have fallen to levels last seen during the first wave of the COVID-19 pandemic in the spring of 2020. Housing is also hampered by lingering supply chain bottlenecks, which are driving prices down. for materials continue to float higher and higher.
Some distributors fear business will not be sustainable if builders catch up to the record backlog. "What happens from here depends on the Fed's ability to tame inflation and how quickly that happens, and the concern here is always the same: Is the cure worse than the disease?" Elias Wilf's Striegel said, referring to rate hikes that may push the country into recession. "The real question is how far do interest rates have to rise to affect inflation in a meaningful way, and can they really make the proverbial 'soft landing'."
Recession or not, distributors point out that any comparison between a potential dip in 2022-23 bears little resemblance to the Great Recession of more than a decade ago. Today, homeowners have more money with cash than they did during the subprime mortgage crash that began in 2007, when home values ​​in some major markets fell by nearly half. As a result, millions of borrowers were flooded with their mortgages. That is not the case today, experts say. Current borrowers owe on average just 42% of their home's value on both first and second mortgages — the lowest leverage ever, reported Black Knight Data & Analytics.
The company noted that there are approximately 275,000 borrowers who would be submerged if their homes lost 5% of their current value in the current market. More than 80% of those borrowers bought their home in the first six months of this year, the peak of the market. But even with an overall price drop of 15%, negative stock prices would still be a long way from the level of the Great Recession.
Labor Challenges
To a greater or lesser extent, all floor salespeople face labor shortages – a phenomenon for which there is no solution. According to the Bureau of Labor Statistics (BLS), there were approximately 500,000 job openings in the construction industry in April 2022, compared to the previous record of 438,000 in April 2019.
Moreover, that need is unlikely to be met by a rapidly aging workforce. Since the end of the Great Recession, the proportion of construction workers aged 25-54 has fallen 8%, while the proportion of those over 55 has risen, according to Associated Builders and Contractors. Statistics show that 20% of today's workers are 55 and older, with 61 being the median retirement age – meaning a fifth of the industry is at risk of leaving within the next six years.
Distributors say they feel the pinch. "We are constantly recruiting and retaining staff, but so are everyone else, both inside and outside the industry," explains Rozmus. "The challenge remains."
To retain key employees, distributors have increased wages significantly over the past two years. "With labor costs up 10% to 15% on a comparative basis, we are paying more to replace open positions and increasing wages to retain key personnel," said Paul Castagliuolo, president of Belknap-Haines, Mansfield, Massachusetts. the No. 1 ranked distributor in the industry.
EJ Welch & Company, Earth City, Mo., has implemented a sign-up bonus and a referral bonus to attract people, and both efforts have been effective in attracting talent, said CEO Mitch Jolley. "We also outsource our search when necessary and have recently seen an improvement in the candidate pool of qualified candidates."
In a similar vein, NRF Distributors, based in Augusta, Maine, routinely tests ways to attract and retain competent and reliable staff. Incentives include generous sign-up bonuses, flexible work schedules, and employee benefits.
According to Wally McAlexander, COO, Memphis, Tennessee-based BPI handed out the largest aggregate raises in its history to bolster its retention efforts.
Retaining excellent staff has been a catalyst in Galleher's steady rise to top-five status in recent years. "We provide a great place to work, and this has helped us avoid significant revenue problems," said Ted Kozikowski, CEO. "Where we do have shortages, such as drivers and warehouse workers, we make sure wages and other benefits are in line with local market and industry standards."
Product trends
The LVT category, led by SPC/rigid core, continues to be the dominant product segment for many distributors, accounting for 30% or more of the product mix for more than half of the Top 20. However, the laminate flooring segment has made the biggest gains year on year with wholesalers. In comparison, hardwoods have retained their cache despite ceding some soil to SPC/laminate.
"We're seeing a revival of laminate," said Tri-West's White. "Laminate is preferred by many retailers because there are many [low-end] SPC is coming to the market."
For the first time in a decade, Elias Wilf's percentage of watertight and resilient sales has fallen – by 2%, largely due to multiple price increases that allowed laminate to grab an opening. "Laminate has exploded this year and the builder has clearly been ripped off about laminate," Striegel said. "When LVT was no longer an alternative to expensive wood, laminate filled that void."
Still, Striegel said he's not ready to write the obituary for the watertight, resilient segment — far from it. As he explained, "The freight issues are decreasing and as this happens, the price of LVT will drop faster than laminate. And above all, LVT is used in every channel, whereas with laminate you wouldn't want to use it in commercial. LVT is universally accepted though. It's amazing how many multi-family houses were 3/8″ hardwood five years ago and today that business is almost all SPC and its various cousins. I don't think anything can stop its accelerated growth. SPC is a beast ."