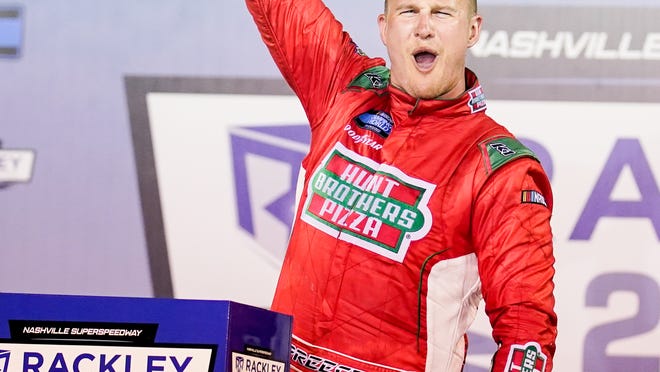 Lap-by-lap highlights of Rackley Roofing 200 NASCAR Truck Series race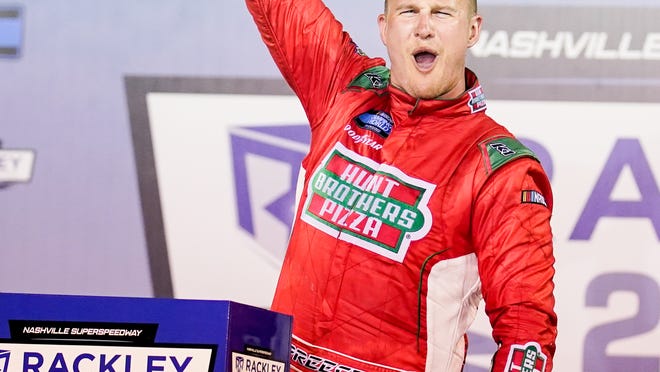 The NASCAR Camping World Truck Series kicks off race weekend at Nashville Superspeedway with Friday's Rackley Roofing 200.
If you're looking for TV info and starting lineup, click here. Otherwise, here are the lap-by-lap highlights of the first NASCAR race on the track since 2011.
START SETUP:Derek Kraus takes NASCAR Truck Series pole in his first career; full Rackley Roofing 200 starting line
THROWBACK:Pastor's Prayer at Nashville Superspeedway Lives On in NASCAR lore: 'Thank you for my smoking hot wife'
TO THE TRACK?:What you need to know about this weekend's NASCAR races at Nashville Superspeedway
QUALIFYING
Derek Kraus takes the post….
…while John Hunter Nemechek goes the wrong way
Time to start racing!
ROUND 1: GREEN FLAG!
Derek Kraus leads from the pole to start. The first leg is 45 laps.
Round 18: John Hunter Nemechek is already in the top 20 after starting 34th. Kraus' lead over Austin Hill is 1.1 seconds, with Chandler Smith in third.
Round 25: Cup Series drivers in this race: Ryan Preece (6th), William Byron (11th), Ross Chastain (19th)
Round 44: Compete for 10th place before the end of phase 1
Stage 1: Winner Derek Kraus, who led all 45 laps in the first stage. Austin Hill, Chandler Smith, Grant Enfinger and Jack Wood make up the top 10. Nemechek finishes the first stage in 21st.
Lap 54: Kraus' slow pit stop puts him out of the top five on the restart. Chandler Smith leads Zane Smith and Grant Enfinger after the restart gets out of hand. Kraus is back to 7th place.
Round 73: Clean air is king. Chandler Smith has led every lap since the green flag waved for Stage 2. Kraus is 6th, just ahead of Cup regulars Ryan Preece and William Byron.
Round 78: ATTENTION! William Byron is slow and seems to leave liquid on the track. He goes to the garage.
Lap 83: After pit stops, Chandler Smith holds the lead. He leads Zane Smith and Kraus after the restart. Phase 2 will end soon.
Stage 2 winner: Chandler Smith, who leads all laps in stage 2. Zane Smith and Derek Kraus finish right behind them. Two Truck Series vets with Nashville Superspeedway experience, Johnny Sauter and Matt Crafton, are 4th and 5th, respectively.
Round 103: Green Flag! Grant Enfinger stays out and leads, with Stewart Friesen and Carson Hocevar alongside. Pit strategy has messed up the field as Chandler Smith and others are outside the top five.
Round 104: Attention! Johnny Sauter is spinning.
Round 111: Attention! Derek Kraus cuts a tire and crashes into the wall in Turns 3 and 4. The day is over for the pole sitter.
Lap 112: Kraus slashed over Josh Berry's truck before crashing into the wall from the back. That resulted in Kraus' severed band ending his day. Bad luck.
Round 117: Green Flag! Ryan Preece leads a lap before Enfinger passes him again. Zane Smith rises to 3rd place.
Round 122: Todd Gilliland, who started in 35th, is in 4th. John Hunter Nemechek is in 10th after starting 34th.
Lap 133: Ryan Preece is within a few car lengths of Grant Enfinger for the lead. Todd Gilliland is now 3rd.
Round 137: This is a three-horse race. Gilliland is within a second of Enfinger and Preece. Can Enfinger stretch this fuel tank while being pushed by two others?
Lap 141: Preece almost pushes Enfinger but loses front grip. He slips half a lap behind Gilliland before riding in front of him again for 2nd place. Great action.
Lap 144: Ryan Preece in the lead! Gilliland comes second past Enfinger, but Preece has a 1 second lead.
Checkered Flag: Ryan Preece wins the Rackley Roofing 200 in his first Truck Series race.
PREECE GETS THE GUITAR:Ryan Preece Wins Rackley Roofing 200 NASCAR Truck Series Race At Nashville Superspeedway