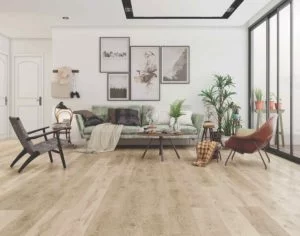 Laminate: Battling entry-level competition – Floor Covering News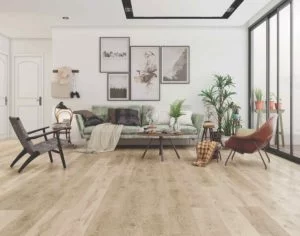 Since its introduction to the US market in the mid-1990s, laminate flooring has been positioned as a DIY-friendly product that won't break the bank. The product's quick-lay format – especially the glueless click systems that followed previous iterations – became a favorite for professional and novice floor installers alike, especially those on a budget.
The downside is the deluge of early competitors coupled with widespread adoption by home centers and large retail stores, resulting in a category that sadly didn't offer much margin opportunity for specialty flooring sellers. The end result was a category often positioned as a loss leader for specialty flooring sellers who couldn't compete, dollar for dollar, with the laminate prices charged by the home centers and discount merchandisers.
Fortunately, that trend started to change about five years ago when the category leaders began investing significantly in new product development and innovation—a move that translated into innovative, high-performing products that specialty dealers could actually turn a profit on. The trend has only accelerated over the past two years and more recently as supply chain shortages from imported SPC and WPC retailers (and consumers) inadvertently pushed back to laminate.
Evidence of the category's resurgence can be seen in the plethora of products laminate suppliers have rolled out this year. These innovative products, which typically consist of step options from 10mm to 12mm, not only help suppliers further differentiate themselves from the thin, low-cost products that typically grace warehouse shelves, but also offer retailers options they're proud of. in their showroom. floors while making above average profits.
Examples include RevWood Premier, which features Mohawk's Signature Imprint technology. "Our new technology, Signature, is really about creating the most accurate representation of real engineered hardwoods," said David Moore, senior director of product management, wood and laminate. According to Moore, the enhanced realism is achieved through three stages of development: fixed design, texture and finish. The first stage begins by looking for an image of real wood and scanning that sample to extract as much information as possible from the source wood. The next step is to apply texturing to the wear layer to match the wood pattern characteristics and grain in the underlying image.
Not to be outdone, suppliers such as Inhaus – known for its high-end, eco-conscious mindset – took over the wraps from Lamdura, the latest laminate innovation touting instant digital printing and high-tech embossing for added texture. "The response to Lamdura has been very good," said Inhaus CEO Derek Welbourn.
The company wants to maintain that high level of interest by giving retailers more flexibility and a wider range of options. For example, Inhaus's opening laminate product is 7mm (plus 2mm pad), followed by an 8mm (plus 2mm attached pad). To differentiate his designs from the "turnkey" laminate offerings currently available on the market, he scans real wood patterns that form the basis for the laminate visuals.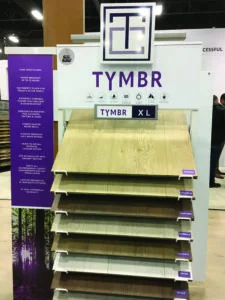 Other mid- to high-end collections to hit the market include Eternity's INCORE Eco-Engineered Composite. INCORE comes in 12.3mm thick planks of any length up to 6 feet and has proven scratch resistance. "Ecoessent not only offers GreenGuard Gold certified products, the entire Ecoessent range is FloorScore certified, which means that Ecoessent has passed strict and rigorous testing to guarantee that all Ecoessent products are Indoor Air Safe certified to be used in any environment. home," said Isaac Lee, head of corporate marketing and product development. "Ecoessent has invested in exclusivity for its authorized retailers to sell with confidence at maximum profit margins."
Another notable participant in the field comes from The Dixie Group. First, the company entered the hard surface arena with a range of hard core offerings under the TruCor brand and hardwoods under the high-end Fabrica label. Now it's throwing its hat in the suddenly resurgent laminate arena with Tymbr, 7.5 inches wide x 72 inches long, featuring a four-sided, painted micro-bevel and EIR for authentic texture and appearance. "Laminate has fought its way back," said TM Nuckols, president of TDG's residential division. "Laminate has improved and can go places where you might not have put it a few years ago."