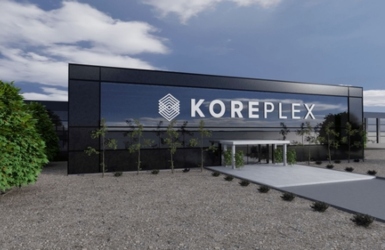 KORE Power to build massive lithium-ion battery manufacturing facility in Arizona
KORE Power plans to build the first US lithium-ion battery manufacturing facility in Maricopa County, Arizona.
The 1 million square foot manufacturing facility, called the KOREplex, will support up to 12 GWh of battery cell production for the U.S. supply chain for lithium-ion battery cells critical to the future of electric vehicles, power grids and more. The facility will have the capacity to produce enough power for 3.2 million households annually, the company said in a press release. KORE plans to begin construction on the facility by the end of the year, with a target to begin production in the second quarter of 2023.
"Arizona is pleased to be selected as the home of the country's first US lithium-ion battery manufacturing facility," said Governor Doug Ducey. "Not only will this facility create thousands of new jobs, it will position Arizona as an anchor in the global battery manufacturing supply chain. We are grateful to CEO Lindsay Gorrill and the entire KORE Power team for choosing our state. We look forward to working together for many years on your success to further increase sustainability here in Arizona and around the world."
KORE Power is a US-based developer of battery cell technology for energy storage and electric transportation. Founded in 2018, the company leveraged the experience of its contract manufacturing partner to build and deploy more than 10 million battery cells for its global customer base.
The new KOREplex facility will add to the company's current annual production capacity of 2 GWh, which is currently being scaled up to 6 GWh to serve the growing battery market. KORE Power's US plant will create more than 3,000 new manufacturing jobs in Arizona.
KOREplex will operate with net zero carbon emissions through partnerships and solar cogeneration + storage.
"We needed a site for our factory with a track record in supporting energy storage, a growing clean transportation industry, and a workforce that could deliver American-made battery technology that the supply chain so desperately needs," said Gorrill. "Arizona hit a home run. We are fully committed to being a cornerstone of the state's clean economy, and we are proud to bring advanced cell manufacturing to the US."
KORE Power plans to hire more than 3,000 full-time employees at the facility, which will create an estimated 10,000 direct and indirect jobs. The construction of KOREplex will employ an estimated 3,400 workers during the peak of construction. Construction is expected to take approximately 18 months.
"KORE Power's investment in Buckeye to produce clean, renewable energy is aligned with the City Council's sustainability goals and our goal of providing significant employment opportunities for our residents," said Buckeye Mayor Eric Orsborn. "This project is a win not only for Buckeye, but also for the West Valley, the state of Arizona and the clean energy industry."
KORE Power selected Maricopa County after a national search and evaluation of energy storage, manufacturing and electric transportation capabilities across the country. The Arizona location offered proximity to complementary industries such as e-mobility, solar, semiconductors and utilities, workforce and logistics capacity, and a pro-business tax and regulatory environment.
News from KORE Power