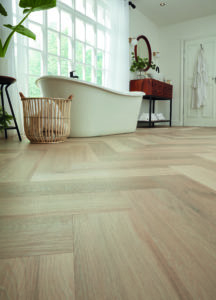 Karndean's high-end Korlok Select checks all the boxes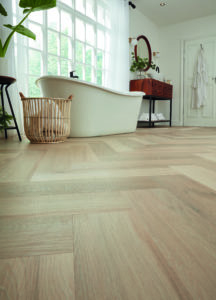 OOver the years, Karndean Designflooring has proven to be an invaluable partner to the retail community. From excellent customer service to eye-catching product design, the company continuously strives for excellence in an effort to support its retail partners.
As Cody Carman, co-owner of Wecker's Flooring in York, Pennsylvania, put it, "They make it really easy to do business."
In the current business climate, Carman noted that suppliers often want to look after their own interests rather than those of their partners. Karndean is not such a supplier. "Nowadays when you work with certain manufacturers it is a long and lengthy process if you have a problem and their goal is to protect themselves from the customer," he explained. "We have a relationship with Karndean where if there's a problem – and there aren't many – they find a solution and make sure our customers are happy. They think it is important that we look good for our customers."
Carman added that one of the biggest problems for a floor dealer these days is the ability to source materials, but that's where Karndean excels. "Karndean does a great job of keeping up to date with the stocking of their material. If I order something, it is delivered quickly."
In fact, an important pillar of the Karndean brand is its extensive product portfolio. From high-end stone looks to real-world inspired wood visuals, Karndean's luxury vinyl product range is seemingly second to none.
Within that portfolio is Korlok Select, the company's premier interlocking waterproof rigid core line, which dealers say is an invaluable addition to their product selections. "We aim to provide the perfect balance of performance, original visuals and design options within Korlok Select," said Dave Capalbo, vice president of retail sales at Karndean Designflooring. FCNews† †[We have a] wide breadth of wood and stone visuals with designs. Our herringbone format meets the need for extensive pattern and layout options in the rigid core format. Korlok Select Stones with InteGrout give homeowners the much sought-after ceramic and porcelain statues without the hassle of scrubbing traditional mortar; what's more, they don't have to worry about InteGrout stains or dirt and bacteria."
Overall, the line itself contains 24 wood visuals, measuring 9 x 56; 15 stones, size 18 x 24, most of which contain color coordinating and stain resistant InteGrout. Three woods and two stones are also available in a 6 x 24 herringbone format. One hundred percent waterproof K-Core technology allows installation over most existing hard floors and uneven subfloors, and a pre-attached acoustic foam backing helps reduce sound transmission to rooms below by 22 dB.
Locked and loaded (with benefits)
In terms of performance and innovation, Capalbo added that Korlok Select remains one of the few rigid products with a 5G folding locking mechanism for quick and reliable installation, which the company backs with its HoldFast lifetime warranty.
For Carman, the locking system is one of Korlok's most enviable features. "Because of the flip-up 5G locking mechanism, my installers enjoy installing it," he explains. "Sometimes longer/wider planks are harder to put together, but this is the look every homeowner is looking for right now. When one of my installation crews at Korlok sees another crew leaving for a job on the line, they get jealous – every time."
While the technology behind Korlok Select is impressive, it's the line's visuals and design story that really impress. Candace Dolan, co-owner of Crossroads Flooring & Design in Victoria, Texas, who has been working with the Karndean product line since 2011, said the product is by far the highest quality and most realistic looking in the industry. "Funnily enough, we used to hate Korlok," Dolan joked. "Especially because it was a new product introduced to the industry that we knew nothing about. It is now our favorite product line for many reasons. The looks are fantastic and the product itself is top notch in terms of quality. Let's just say, if I ever get to build, I'll put this in my house."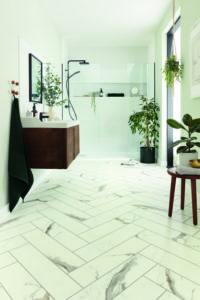 For Carman, it's the story behind the visuals that really sets Korlok Select apart from the – very large – luxury vinyl crowd. "They do a great job getting out there and finding natural products and making floors [designed to emulate that.] So you don't just sell a product, you sell a story. Salvage Barnwood is a product that: [emulates] shed planks from the northeast. You tell a consumer in Pennsylvania that story and they fall in love with it, and then Mrs. Consumer tells her friends who fall in love with it more. It's not just a color, it's part of their home."
It's no secret that the luxury vinyl market has become saturated in the past five years. From high-end, design-forward offerings to commodities looking to snag a small slice of the massive $8 billion-plus resilient floor pie, the value of each offering often rests on its technology or design skill. For dealers, product lines like Korlok Select are a rarity that ticks all the boxes.
"Mr. The consumer wants to know what the structural warranty is, how it is installed and what it is made of," explains Carman. Consumers want a high-quality design and a realistic appearance. She doesn't want anyone to walk into her house and say, look at this beautiful luxury vinyl; she wants them to walk in and say look at this beautiful forest – and that's what Korlok does. It checks the boxes for Mr. Consumer and his structural concerns, and it checks more than all the boxes as far as the images and designs – and especially the story behind each color – for Mrs. Consumer.