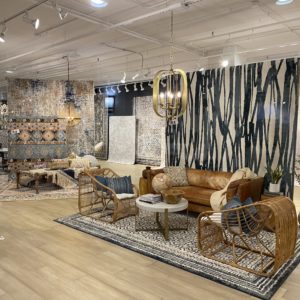 Karastan returns to High Point Market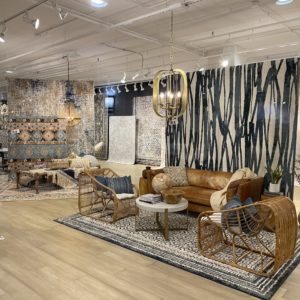 Sugar Valley, Georgia – Karastan Rugs returns to High Point Market, where the destination showroom will feature the latest styles and appearances from celebrities and design leaders, including Scott brothers Jonathan and Drew, Bobby Berk and Stacy Garcia. A staple on the market floor, Karastan Rugs' impressive 23,000-square-foot showroom allows attendees to view the total range of products on offer, from the very best carpets to bath and doormats. In addition to trendy fashion, Karastan Rugs said it invites attendees to celebrate in the showroom with three days of star-studded events.
"The Karastan Rugs showroom has been designed with our customers' comfort in mind," said Jeff Seagle, design director of Mohawk Home. "We wanted to create an exciting space where our products set the tone. We work very hard to bring each collection to life, many with leading designers, such as Jonathan and Drew, Bobby Berk and Stacy Garcia. Karastan Rugs showroom also allows us to host coveted design experiences for attendees. It's one thing to show off a rug, but it becomes an exalted experience when attendees can talk to the designer about their design philosophy and how they bring their rugs to life."
About the designers
Inspired by every step of their design journeys, celebrity television personalities and designers Drew and Jonathan Scott said they teamed up with Karastan Rugs to create multiple collections with every consumer in mind. From luxurious yet accessible pieces to durable outdoor rugs that add shine to any space, the Scott brothers create rugs that consumers will remember for a lifetime, the company said. Karastan Rugs said it's inviting High Point Market visitors to join "House Beautiful" brothers Scott and Hadley Keller on Saturday, Oct. feels comfortable.
An established predictor of color and design trends, internationally renowned designer Stacy Garcia's signature designs bring an unparalleled layering of color and pattern to Karastan Rugs, allowing consumers to mix and match for a colorful lifestyle, according to the company. During High Point Market, Stacy Garcia will host a lively cocktail hour at the Karastan Rugs showroom on Monday, October 24 at 3pm, where guests can mingle with the famed designer as she previews her new introductions.
A resident design guru on the hit show "Queer Eye," Bobby Berk has quickly become a design leader in the home furnishings industry. His collaborative collection, Bobby Berk by Karastan, features a blend of his hip, urban style mixed with the craftsmanship of Karastan Rugs. Karastan Rugs invites guests to its showroom on Sunday, October 23 at 3:00 PM for signature cocktails, music and product giveaways as Karastan Rugs presents its latest introduction.