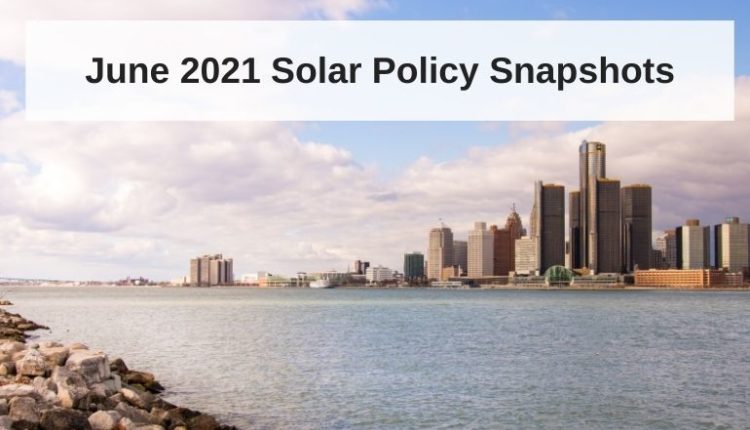 June solar policy snapshots
DOE Announces $ 10 Million in SolSmart Program Funding to Increase Solar Equity
Washington, DC
The United States Department of Energy has announced new funding initiatives to support solar deployment in disadvantaged communities. $ 10 million will support a new SolSmart administrator to update and manage the program and $ 5.5 million will help connect local governments with technical experts to increase solar adoption.
South Carolina Legislation Exempting Leased Solar Projects From Property Taxes Awaiting Governor's Signature
Columbia, South Carolina
South Carolina lawmakers passed a bill that would exempt rented and third-party residential solar projects from real estate taxes. The exemption already applies to solar customers who own their systems. The bill is on the governor's desk.
South Carolina PSC Completes New Net Measurement Rules
Columbia, South Carolina
The South Carolina Public Service Commission has issued definitive rules for net metering in the state, extending customers' current net metering regime for solar power to 2025 or 2029, depending on when they went solar. The new program includes usage times and discounts for smart thermostats.
Michigan Community Solar Alliance forms as the state considers enabling legislation
Lansing, Michigan
Solar advocates in Michigan have formed a coalition to support community solar in the state as the legislature is considering permitting these types of projects. The 13 organizations in the group range from builders to air quality groups.
Colorado PUC Approves SEIA Request To Simplify Solar + Storage Interconnection
Denver, Colorado
The Colorado Public Utilities Commission has adopted recommendations from SEIA and the Colorado Solar and Storage Association to simplify interconnection rules and eliminate customer confusion. The clarification will make it easier for residential and C&I solar projects to qualify for accelerated processing.
SEIA establishes Storage Advocacy Network to strengthen policy support for new technology
Washington, DC
SEIA announced the launch of a dedicated Storage Advocacy Network, a new, formal arm of SEIA that will serve as a national and national advocate for energy storage. The nonprofit said it will soon announce more plans to integrate storage into its research and education offerings as well.