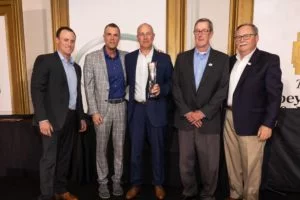 JTG's annual awards event resumes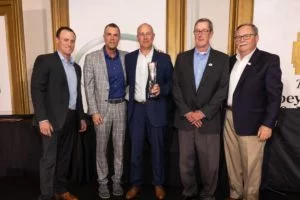 Atlanta—After a two-year hiatus, JTG Enterprises, the parent company of Ted's Abbey Carpet & Floor and Floors to Go of Anniston, Ala., hosted its annual awards ceremony here on May 7.e year, the event honored both JTG's top-performing employees and its partners.
Ted Gregerson started the company 25 years ago, and today the two stores have combined sales of $9 million. Gregerson said he understands that his employees are the engine, so he organized this event to reward his people – those who had a "spectacular" year. "We wanted to give them something to show our appreciation and recognize them," he said.
The awards banquet has doubled in size from a 60-person event in Anniston in 2007 to an industry event in Atlanta, now attended by executives and representatives of key suppliers. To illustrate, this year's banquet drew Jay Koppelson, vice president of national accounts, Mannington; and three Mohawk senior vice presidents: Trey Thames, Jason Randolph and Kelly Oberschlake. Sales volume has also doubled over the past 14 years – more or less evenly split between the two stores on either side of the city.
Supplier of the Year went to distributor All South Flooring of Charlotte, NC. The 6 year old company was founded by the same group behind CMH Flooring Products – John Capell, Kerry Capell and Mardsen Haigh – bought by Haines eight years ago. "From day one, they asked us what we wanted, what we would sell," Gregerson said. "They basically built their lines around us. As such, our business with them has continued to grow every year. They are real to us."
The three founders of All South also received Lifetime Partnership Awards, along with industry veteran David Holt. "Holt was instrumental in increasing our hard surface business with Mohawk," Gregerson said. "We didn't do anything with Mohawk [on that side of the business] even though they were our largest carpet supplier. Holt took us under his wing in 2014 and proved to be a great partner over the years. Today, Mohawk is almost our largest supplier of hard surfaces, right behind distributor BPI."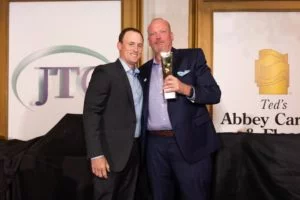 Jason Gregerson, flooring consultant at the Abbey location, won the top sales award for setting a store sales record in 2021 at $1.5 million. On the Floors to Go side, Ben Lasslett took top honors for his $1.4 million — a record for that store.
The past two years have delivered record growth for JTG. "We saw more traffic during the pandemic," Gregerson said. "A lot of people were working on home projects."
In addition, the retailer has seen the average ticket rise "pretty dramatically" to around 20% in recent years. "People are buying a nicer carpet than they've been in years," Gregerson said. "We also sell a lot of laminate and have done a lot of kitchen and bathroom renovations."
The biggest challenge has been dealing with supply issues and price increases, Gregerson said. "But apparently we handled that well. We're holding $1 million in inventory so we can stay ahead of the curve."