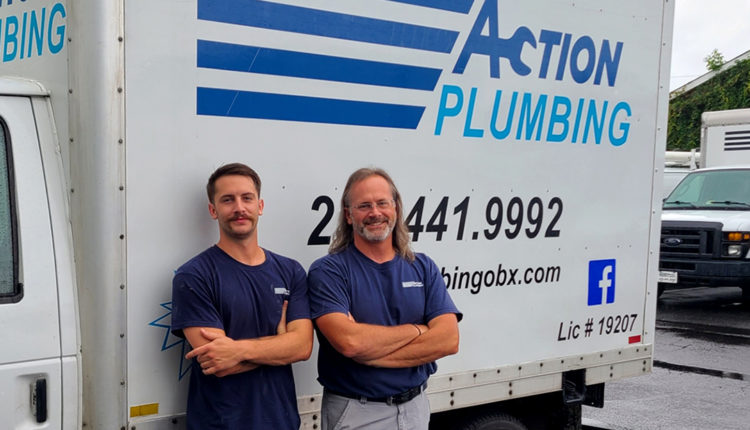 John Osborn's Action Plumbing celebrates 20th anniversary – The Coastland Times
John Osborn's Action Plumbing, a leading provider of plumbing services on the Outer Banks, has announced its 20th anniversary in business for the company.
John Osborn, a sole proprietor working out of his garage, began building his business in December 1999 and incorporated his business in June 2001. Shortly after, he hired his first employee and continued to grow year after year, providing repair services and plumbing for new construction and renovation projects. In 2009, after a slow recovery from the recession, Osborn moved out of the small space in his garage and Action Plumbing moved into a unit in OverSeas Professional Park in Kill Devil Hills.
As the company continued to grow and expand, Osborn needed office space for technicians to prepare work orders, order parts and talk to customers, as well as storage for an increasing inventory of materials. This moved them to a larger space in Ocean Commerce Park, where the company now operates. In the spring of 2019, they occupied an adjacent space to provide 4000 square meters of warehouse space for equipment, parts and materials and remodeled their 450 square meter office.
Action Plumbing is known as a fast, friendly group of experts who work hard to do a great job and keep their customers happy. "Helping people is what I really enjoy," Osborn says. "We are proud to support our community here on the Outer Banks. Our team gives 110% every day and it shows," he added.
Today John Osborn's Action Plumbing has 12 employees; six technicians, a service manager, construction manager, customer service coordinator and accounting manager, along with son Alex, project manager, and Osborn's wife, Lynn, who oversees day-to-day operations.
For more information visit www.actionplumbingobx.com or call 252-441-9992.
READ MORE NEWS HERE.

RECENT headlines:
Power outage named as cause of Avon water main break
Fireworks Regulations Outer Banks, city by city