JinkoSolar product users can file easier warranty claims through Raptor Maps platform
Raptor Maps, a provider of solar lifecycle management software, has released a product for warranty claims in partnership with solar module company JinkoSolar.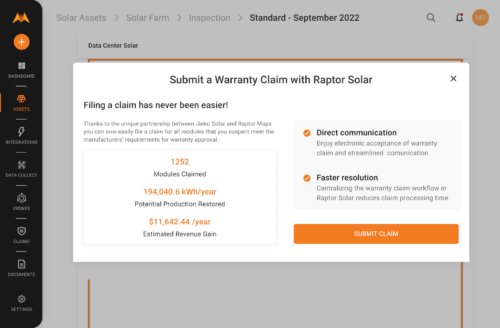 The new software version of Raptor Maps offers a progressive solution to a historically complex process. Robot-captured inspection data in the Raptor Solar platform is combined with both field and manufacturer-supplied data. Warranty entries provide an auditable data log, are designed to minimize confounding variables, and enable status updates and collaboration with JinkoSolar engineers directly within the platform.
"Our US-based support team is proud to be the most trusted supplier of solar and energy storage equipment in North America," explains Mr. Nigel Cockroft, General Manager of JinkoSolar (US) Inc. from. "Our commitment to customer success and long-term partnerships has earned us that trust. We are proud to be the Raptor Maps launch partner, helping us achieve this mission and deliver a first-class experience to JinkoSolar customers."
"It is particularly exciting to have JinkoSolar as a launch partner as they share our mission to enable customers to scale solar operations over the long term," describes Raptor Maps CEO and co-founder Nikhil Vadhavkar, noting that JinkoSolar- modules are accepted by 85 financial institutions. "In addition to providing better tools and guidance for workers on the ground, we enable JinkoSolar to monitor the performance of their modules in the field to track trends and proactively engage with customers."
News report from Raptor Maps