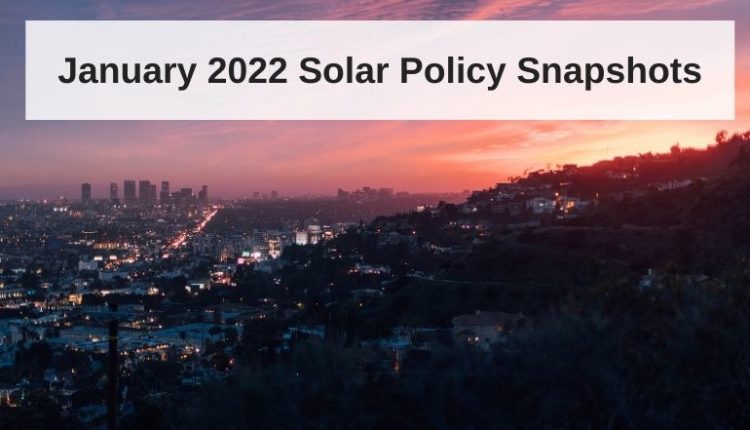 January solar policy snapshots
Illinois can expect solar power if adjustable block program reopens
Chicago, Illinois
A new study found that Illinois's recently passed Climate and Equitable Jobs Act is expected to result in 250 MW of community solar energy by 2022 and pave the way for 5,800 MW of solar energy by 2030. The Adjustable Block Program with new , larger grants opened its waiting list in early December.
CPUC Proposes Highest Solar Cost in the Nation
Sacramento, California
On December 13, the California Public Utilities Commission issued its proposed decision on the successor to the state's solar grid metering program. The solar industry is lobbying against its proposal, which includes grid access fees and lower net billing compensation.
Senate Finance Committee Adds Inverters and Trackers to BBB List of Manufacturing Incentives
Washington, DC
The Senate Finance Committee released its draft of the Build Back Better (BBB) ​​Act on Dec. 11, adding domestic production incentives for inverters and trackers to its lineup. SEIA has been working to include those technologies in the bill.
Build Back Better Act questioned after Manchin statement
Washington, DC
The BBB bill requires the support of every Democrat in the Senate, but Senator Joe Manchin (D-WV) said on Dec. can't vote to continue on the act. SEIA President and CEO Abigail Ross Hopper said the organization still strongly believes members of Congress will continue.
President Biden Orders 100% Carbon-Free Electricity Purchases for Federal Operations
Washington, DC
On December 8, President Joe Biden signed an executive order calling for 100% carbon-free electricity purchases in all federal operations by 2030, with the longer-term goal of achieving net-zero emissions from overall federal operations by 2050.. The Center for Biological Diversity called the timeline weak and called for faster action.
Biden signs Uyghur Forced Labor Prevention Act, which could further impact solar supply chain
Washington, DC
President Biden signed the Uyghur Forced Labor Prevention Act, which bans all imports from Xinjiang, China unless suppliers can prove the products were not made using forced labor. The ban is expected to have a "modest" effect on the solar industry, as it is estimated that half of the world's polysilicon supply comes from Xinjiang province.