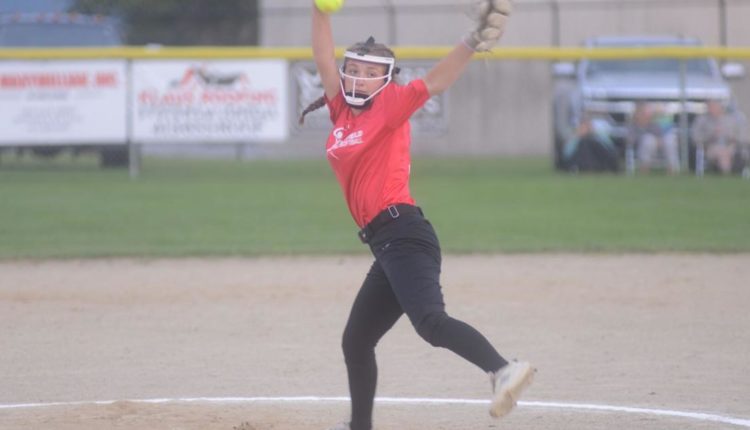 J. Smegal Roofing captures Pittsfield 18U Softball championship with tight win over Berkshire Fence | Local Sports
PITTSFIELD — The third time was the charm for J. Smegal Roofing and it happened to come on the biggest stage.
After tying and losing to Berkshire Fence in the regular season, J. Smegal captured the Pittsfield 18U Softball championship with a 6-5 win at Doyle Complex on Wednesday night.
Nevaeh "Spark" Lopez lived up to her nickname, going 2 for 3 with a home run and 2 RBI as J. Smegal's No. 3 hitter. She knocked home Madalyne Creamer on a single in the first and worked her way around the bases on an inside-the-park home run to begin the fourth.
"Like four years ago, I wore a shirt to practice that said sparkle and ever since it has been my nickname," Lopez said. "I thought I was going to be thrown out [in the fourth inning) when I was rounding second and that made me run a bit faster.
J. Smegal did most of its damage early, plating four runs in the top of the first inning. Creamer, Ariana Hall and Lopez each singled to begin the ballgame. Amanda Pou made her mark with a two-run double in the frame.
Creamer finished 2 for 3 with two stolen bases batting atop the lineup. Pou, batting fifth for J. Smegal, was 2 for 3.
Taryn Bannon starting in the circle for J. Smegal and retired the first nine Berkshire Fence batters she saw, receiving plenty of help from Lopez at second and Sadie Aitken in left field. Lopez recorded two outs in the bottom of the first, retiring one batter on a pop-out and another on a grounder. The inning came to a close with a fly-out to Aitken in left.
The second inning started just how the first ended, with a fly-out to Aitken. Lopez wasn't done either though, recording two more put-outs in the frame, finishing with seven — including an over-the-shoulder snag of the ball for the second out of the fourth inning.
"It is really important," Lopez said of having to field her position. "I get mad at myself if I miss something and it is good to help the team."
While J. Smegal was rolling, it could only hold Berkshire down for so long. Ash Profio registered Fence's first hit, a single to begin the fourth inning.
Julia Pierce dropped a perfect bunt down the third-base line and reached first base on play. Paxton Ebling worked a walk, stocking the bases with just one out in the bottom of the fourth and trailing by five.
Audrina Maloney, Lily Smith, Madeleine Leoncini and Sophia Artioli all connected for four-straight RBI singles. Smith scored on a passed ball as Fence knotted the game at five. Maloney, Berkshire's catcher, finished 2 for 2 at the plate.
Mia Arpante pitched all seven frames for Berkshire, striking out eight batters without surrendering a walk.
In the fifth, J. Smegal's Sophia Lamalfa was hit by a pitch and came around to score the winning run on a Hopkins double.
Bannon's day came to an end after four innings and Pou guided the ship home, retiring nine of the 11 batters she saw, striking out four in the process. Fence made a late push with runners at second and third with one out in the sixth, but back-to-back strikeouts from Pou closed the threat.
After starting the season in early July and working around more than enough rainouts, the lights at Doyle Softball Complex set on the 2021 summer season with J. Smegal Roofing owning all the marbles.
"We have strong communication and it makes things fun," Lopez said. "I've played with most of these girls for a long time and that is what makes this special."
———
J. Smegal Roofing 400 110 0 — 6 10 2
Berkshire Fence 000 500 0 — 5 6 2