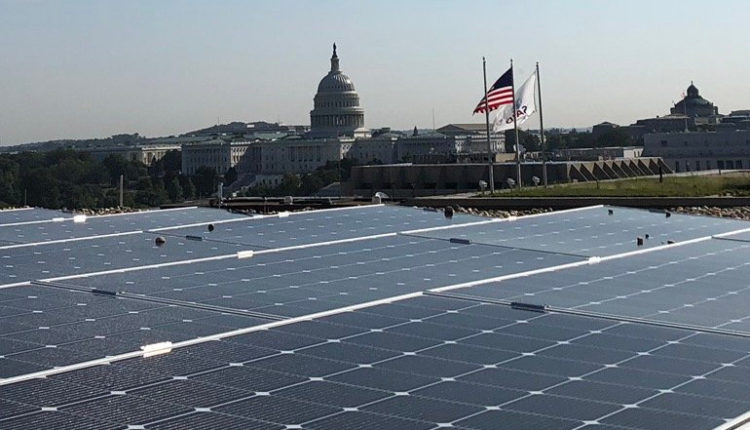 Ipsun Solar navigates challenging security precautions to complete project in downtown Washington, D.C.
Among the many bingo bucket list items that contractors had to check off last year, such as installing panels while wearing masks, Ipsun Solar (No. 257 on the 2021 Best Solar Contractors List) had the unusual experience of building a 561 kW system 140 ft above the ground with armed guards watching.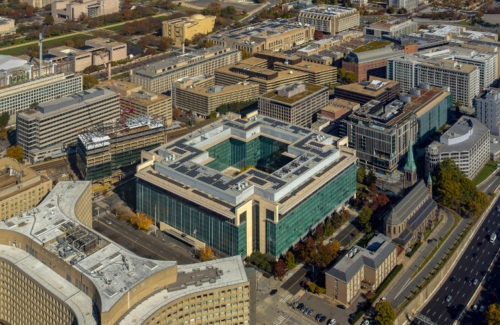 "Almost every five people had an armed guard. It was interesting to be watched by someone with a gun," said Herve Billiet, co-founder and CEO of Ipsun.
The extreme security was in place because Ipsun was working just a few blocks from the National Mall in Washington DC, with the Capitol in sight. Constitution Center, a private office building whose tenants are the Federal Housing Finance Agency, General Services Administration, and the Federal Trade Commission, underwent a renovation and hired Ipsun to install a solar panel on the plus sign-shaped building.
In addition to the added security – every box of solar materials had to be searched at the loading dock before they could even get to the roof – the building's unique shape led to more project problems. With a one-acre open courtyard at the center of the building's footprint, materials had to be carefully walked around the perimeter of the roof for staging. A crane in downtown DC lifting panels up 10 floors wouldn't be cost-effective, so pallets got into the freight elevator—which could only be used at night… on weekends.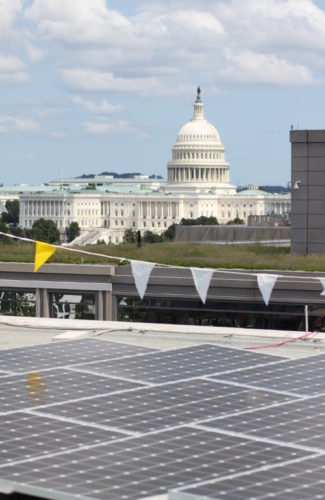 "Only on weekends were we able to move all the hardware to the roof. So we had to get more people to help in the middle of the night," Billiet said. "There was little excuse not to be on time, because there was no traffic. Plenty of parking!"
The Ipsun team worked through the night to load 1,404 solar panels and 140,000 pounds of ballast blocks onto one elevator and around the tricky roof. The roof also couldn't support much weight in one spot – only about 500 lbs within 15 ft squares – so many, many stalls were needed.
"If each panel weighs 50 lbs and each panel requires 120 lbs of ballast, you can only fit about three panels of gear in a 15-ft area," said David Lasky, senior commercial project manager at Ipsun. "Each block had to be unloaded by hand two to three times to get it through the building. It was a lot of weight and human strength."
Lasky said good partners made sure the project ran smoothly. Property developer Safari Energy and the building owner had many ongoing discussions with Ipsun to ensure the project was completed. And it was done, on time and within budget.
"Sometimes solar starts to become more of a construction project, and in construction things can go wrong," Lasky said. "It's a big, beautiful solar panel. We have learned that with hard work anything is possible."
---
This story was featured exclusively in our Top Solar Contractors 2021 issue. Check out the issue and full list of the best solar installers in the US here.