Intersolar North America now accepting applications for 2023 Solar Games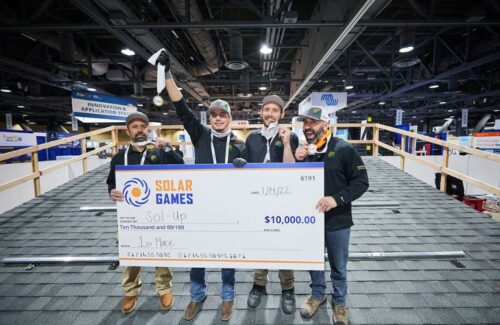 Intersolar North America (ISNA) and Energy Storage North America (ESNA) are now accept applications for the third annual Solar Games competition to be held February 14-16, 2023 at the Long Beach Convention Center in Long Beach, California. Applications to compete are open through September 2, 2022.
The solar games, the industry's first installer competition, task teams building residential solar and storage systems live in the exhibition hall #isnaesna23. The bracket-style tournament takes place in a custom stadium and features multiple rounds of competition in which teams compete to install solar panels, racks, inverters and battery storage. Teams are scored on a points system on quality, safety, speed and other criteria. The winning team from each round will continue until the winner of the final round is named Solar Games Champion and receives a $10,000 cash prize.
Application Details:
Installation teams from across the United States are invited to: apply compete. To qualify, all team members must be OSHA 10 certified and one team member must be NABCEP certified (or a licensed electrician).
New for 2023, each team will receive $2,000 to cover travel and lodging expenses.
The 2023 Solar Games champion will receive $10,000; In second and third place finish $3,500 and $2,500, respectively.
A six-member advisory board of clean energy leaders helps develop and oversee the competition. Board members include representatives from K2 Systems, ReVision Energy, Rolls Battery Engineering, Tweede Solar, Institute for Building Technology & Safety and Solar Cowboyz.
Equipment provided by the sponsor will be donated to: Second Solar upon completion of the competition for use in projects that provide resource-deficient communities with renewable energy systems. Currently, equipment sponsors are Electriq Power, K2 Systems, JinkoSolar and Rolls Battery Engineering. Interested companies are encouraged to contact the Solar Games Sales team for more information.
"The Solar Games celebrate the talent and camaraderie among solar and storage professionals," said Wes Doane, event director at Intersolar North America and Energy Storage North America. "The two-day tournament is a highly anticipated and well-attended part of our annual conference and expo, bringing participants, exhibitors, press and speakers together in the expo hall for an exciting competition. We can't wait to see what happens in 2023."
Companies not yet ready to apply are encouraged to use this online form to connect with event organizers and discuss how to enter the 2023 competition.
News release from Intersolar North America and Energy Storage North America