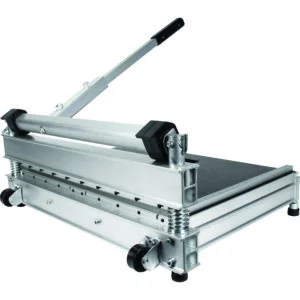 Installation: Tools that ease the task at hand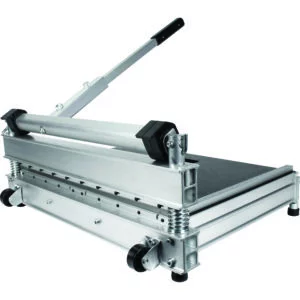 The 25-inch Pro Flooring Cutter from Roberts Consolidated is a guillotine-style cutter designed to cut precise, clean edges on flooring materials such as laminate, composite wood, carpet tile, vinyl flooring, vinyl siding, VCT tile, foam, and more. The eccentric cam design provides a smooth, constant cutting pressure resulting in clean, accurate cuts, and the blade can be sharpened over time, extending blade life.
Plus, the built-in, heavy-duty wheels make it easy to move around job sites, saving installers time. "It just works great to have that accessibility," said Renee Tester, vice president of marketing, e-commerce and
digital, KEP. "It's a more compact unit that you can get in and out of easily [of the job site]."
shag tools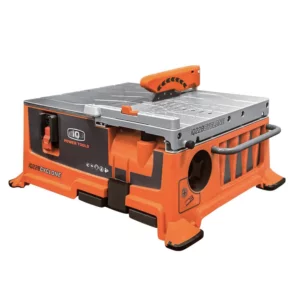 For professional, seamless tile installations, Shagtools offers installation tools such as the iQ228 Cyclone 7-inch dry-cut table top saw. The Cyclone has a powerful suction and saw motor and captures 99.5% of the dust, which means that cleaning is minimal. The 7-foot Q-Drive blade cuts 18-foot cuts with a roller table or over 24 feet with a locked table and weighs just 36 lbs. – making it easy to carry to different job sites.
In addition, this time-saving saw gives installers the ability to cut tiles in an indoor environment, while reducing travel back and forth to the cutting area. "Normally, when cutting tile, you have to set up outside and make multiple trips," said Joel Morehouse, digital and e-commerce marketing manager. "[A wet saw] makes a mess because you either use a lot of water that needs to be cleaned up or you end up with dust everywhere. You save time by making fewer trips, and with the dust-free, dry saw you don't have the problem of overcrowded clutter where you set it up."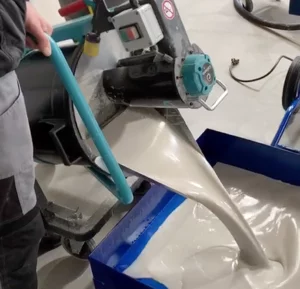 To help installers quickly and efficiently mix subfloor materials on site, Schönox USA offers the Graco SL340E piston pump and the Collomix LevMix 65 Heavy-Duty portable mixer. The Collomix LevMix 65 works both on its own and with the Graco SL340E piston pump. According to Ryan Bassett, product support specialist, Schönox USA, the pump is mobile, easy to set up and easy to clean and the ideal solution for jobs with different heights. It pumps 140 bags of 55 pounds of Schönox self-leveling compounds per hour with a thickness of 1⁄4-inch and can also vertically pump 40-50 feet.
Despite only requiring one person to operate it, the portable mixer has a large mixing capacity, vacuum connection for dust-free mixing and allows pouring without repotting. "The Graco SL340E piston pump offers faster installations while saving on labor costs and higher margins," said Bassett.