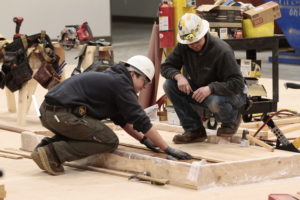 INSTALL expands hardwood course offering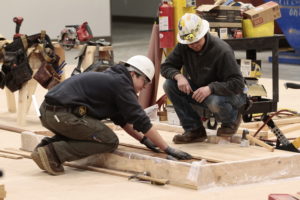 Washington, DC— INSTALL, the North American leader in flooring installation training and certification, continued to expand its training offerings and presented a Hardwood Floor Installation course at the Northwest Carpenters Institute (NWCI) in Burlington, Washington.
INSTALL's core hardwood flooring curriculum was developed by the Carpenters International Training Fund (CITF) and based on standards from the National Wood Flooring Association (NWFA) and the United Brotherhood of Carpenters (UBC). NWCI was able to select specific elements for the 40 hour Hardwood Flooring course that would be a big hit with local floor installers.
"We worked closely with INSTALL to design a hardwood floor installation course that would target a sizable market that has very limited access to professional training," said Steve Anderson, instructor for the NWCI. "The course is based on and includes the high training standards promoted by INSTALL, which translates into the best fine-tuning opportunities for even the most experienced hardwood floor installers."
With a variety of industries relying heavily on professional flooring installers who are highly skilled in hardwood flooring installation, such as retail stores and engineering industry leaders who focus on biophilic design to promote worker productivity, a hardwood flooring course is essential for installers and contractors in the Pacific Northwest who, according to Anderson, want to deliver long-term value to their customers.
Building block for future growth
The introductory level course, led by INSTALL trainer Jeff Moore, focused on proper installation of sleeper and subfloor systems, instructed students on gluing and nailing methods, and emphasized techniques used for multiple installation patterns and styles. The final steps in the course covered several remedies for repairing hardwood floors.
"There is tremendous interest in expanding comprehensive flooring training programs in the Pacific Northwest," said John T. McGrath Jr., executive director of INSTALL. "INSTALL sees NWCI training as a fundamental building block to grow our programs across the region."
Path to INSTALLATION Certification
For installers seeking to earn their INSTALL certification, the training in these hardwood floor installation courses will empower and prepare them to successfully complete the certification. The students are set up to take one course per quarter throughout their apprenticeship.
Due to the popularity of the recent course, the NWCI will resume training in the late summer/early fall (third quarter) of 2022 at the NWCI in Burlington, Washington. Interested parties may visit www.nwci.org or call the NWCI at (253) 437-5235 for more information or to register.