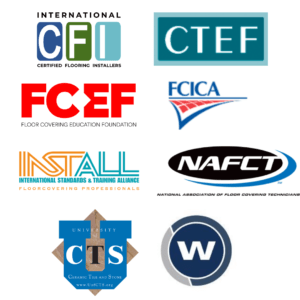 Industry associations ramp up training efforts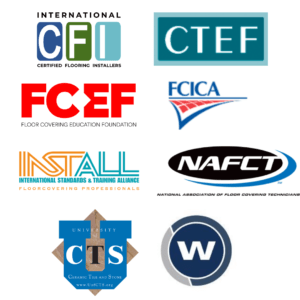 Organizations across the industry are updating their training and education programs to help installers, salespeople and other flooring professionals perfect their craft. In addition to the long catalog of in-person, hands-on industry training that is widely accessible, there are also numerous online programs available to provide easy access and enable participants to learn at their own pace. A number of these associations also offer certifications that give industry professionals added credibility.
Below is an overview of some of the installation training programs and initiatives available.
The International Certified Flooring Installers Association (CFI) offers educational programs and certifications in multiple categories, such as carpet, resilient, hardwood, and ceramic tile and stone. Within these categories are hands-on certification classes that cover basic and advanced topics.
Recently, the Commercial Advanced program for the carpet category has been updated to pay more attention to pattern matching and pattern correction. CFI's hardwood training courses cover everything from installing a floating floor to instant gluing or stapling. "We take them from the methods learned from someone else in the field and teach them how to install within the manufacturer's specifications," explains Dave Garden, executive director of education. "We teach them the standards, then we test them."
---
Ceramic Tile Education Foundation (CTEF) provides local, regional and national training programs for industry professionals, installers and sales associates interested in ceramic tile.
In addition to the classes, CTEF also has a certification program. "While not training programs, many installers take on the challenge of a third party evaluation for the Ceramic Tile Installer test and the tests for the Advanced Certifications for Tile Installers events where they learn important installation information as well as something about themselves. learning," said Brad Denny, executive director of CTEF.
---
Taking a grassroots approach, the nascent Floor Covering Education Foundation (FCEF) has partnered with colleges across the country to implement the 10-week Basic Floor Covering Installation program. A good example is the work the organization is doing in conjunction with the Georgia Northwestern Technical College (GNTC), which is accredited for installation instruction for carpeting. FCEF said it hopes the accredited program at GNTC's Dalton campus will serve as a springboard to the engineering college's 22 sister campuses across Georgia and then to other states. "We're really excited about this and what it means for our industry," said Kaye Whitener, FCEF's director of operations.
Through partnerships with industry training groups such as CFI, CTEF and NWFA, FCEF has developed an accredited program to introduce students to installing hardwood, resilient, tile and carpet. "The engineering college program is one of several programs we are currently working on that will develop a program that can be embedded into the four-year high school building program," explains Whitener. "Our ultimate goal is to implement this program in as many local engineering colleges across the country as possible to even begin addressing the installation crisis. Our sector loses 4,000 to 6,000 installers every year."
---
The Association of Floor Contractors (FCICA) provides a forum to connect with and learn from other commercial contractors, distributors and manufacturers with similar challenges and experiences. "FCICA fosters relationships between contractors and manufacturers," said Catherine Church, FCICA's executive director. "If you run into an installation problem or have a question about a product, you have the name of the person at the manufacturer to contact to help you and ultimately your customers."
One of FCICA's signature initiatives is the Certified Installation Manager Program (CIM), which was launched in 2016. The program is aimed at project managers for flooring installations and has more than 200 graduates, according to the Church. The program can be completed online or in person at one of FCICA's CIM training events.
---
The International Standards and Training Alliance (INSTALL) recently rolled out a new hardwood flooring course that focuses on installation and sand-to-finish practices. The curriculum was developed by the Carpenter's International Training Fund based on standards from the NWFA and United Brotherhood of Carpenters.
INSTALL also offers extensive training in different floor categories with a minimum of 160 hours of formal training per year. Topics covered include floor preparation, general hand and power tools, site control procedures, adhesives, general layout, and more. "In addition to learning technical skills, these installers develop soft skills such as business management and communication through on-site training and interaction with the industry's leading instructors," said John McGrath, INSTALL Executive Director.
---
The National Association of Flooring Technicians (NAFCT) offers certifications and training on various topics such as subfloor/substrate preparation. This certification consists of an online course and an in-depth, one-day, in-person training session. "We focused on the subfloor/substrate because if it's not properly prepared, it won't matter how well the floor is laid," said Sonny Callaham, NAFCT Chairman of the Board of Directors.
In addition to subfloor/substrate certification, NAFCT offers a modular resilient installation course and a heat welding training and certification course. "Resilient floors are industry-leading and it's important to help installers plan and install this type of floor correctly," explains Callaham.
---
The National Wood Floor Association (NWFA) offers a comprehensive training program consisting of instruction at headquarters, at regional locations across the country, and online. According to Brett Miller, vice president of technical standards, training and certification, the goal is to bring training to as many new markets as possible. "Our intention is to be in just about every part of the country where we can be to train people," he explained, citing new locations such as: Clarksville, Tenn; Dallas; Baton Rouge, La.; New York; and more.
In addition to the more traditional courses, Miller says the organization is trying to develop more one-day workshops. NWFA has also developed virtual training programs through the NWFA University initiative. "They're small, bite-sized pieces of content that people can jump into in 10, 15 minutes and they'll complete a course," explains Miller.
---
Formed in 2003, the University of Ceramic Tile and Stone is an independent, online training university for the tile and stone industry. The organization offers essential courses such as understanding the basics of ceramic tile and understanding the basics of natural stone, as well as the complete guide to developing tile and stone specifications with architects – a new course offering.
Aside from the plethora of educational courses available for purchase, UofCTS offers a certification accreditation program for experienced tile and stone professionals who have a minimum of two years of full-time hands-on experience in the tile or stone industry.
---
The World Floor Covering Association (WFCA) is the largest advocacy organization in the industry and offers many educational opportunities to its members. This includes 50 video-based modules covering topics such as sales skills and back office management as part of WFCA University. According to Scott Humphrey, CEO of the WFCA, the organization is developing a complete leadership certification program for all levels of management within the industry.
In addition, the WFCA offers options such as Profit Matters and GROW Groups. Humphrey also leads Leadership Live – a weekly, pre-recorded segment that gives members advice on what it takes to be a world-class leader in life and work.
The post Industry associations step up training efforts appeared first on Floor Covering News.