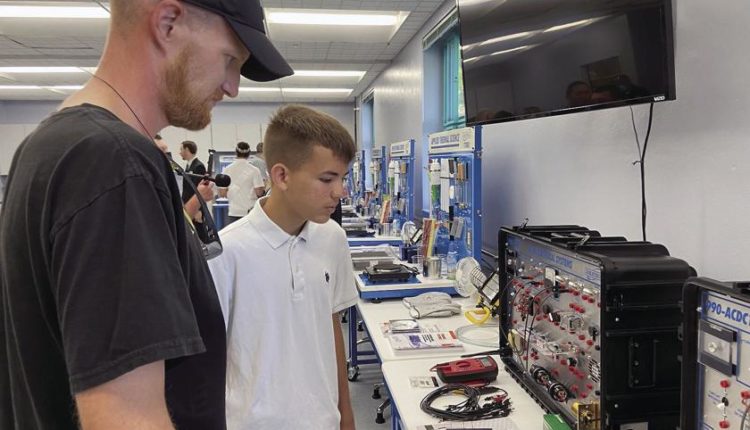 HVAC program debuts at Pine Ridge High in Deltona | News
Stephanie Allen is excited to see the new vocational program in heating and air conditioning at Pine Ridge High School in Deltona.
"It's great," Mrs. Allen said. "It is a very practical program. My son is a tinkerer. He builds lawnmower engines. He built his own trailer for it."
Her son, Alexander Allen, 15, said: 'It's a good chance to get into the business. It will open more doors."
The new heating/air conditioning and refrigeration/installers and heating/ventilation and air conditioning mechanics was made possible by a state grant of $531,457.
Governor Ron DeSantis and Education Commissioner Richard Corcoran announced the winners of the Florida Pathways to Career Opportunities Grant. $10 million was awarded statewide to support the expansion of local registered apprenticeship and pre-internship programs in schools, colleges, universities and private training institutions.
At Pine Ridge High School, a ribbon was cut on July 28 with state representatives, members of the Volusia County School Board and high school staff, educators and staff, and parents and students.
Pine Ridge High School principal Paul Nehrig presided over the ceremony.
"Today is truly a special day as we officially begin a new and exciting opportunity for the students of Volusia County," said Mr. Nehrig. "I am grateful for the vision and hard work of countless individuals who have brought this program to life, and for the support of so many (in the) school district, (in) industry and community leaders, many of whom are here. with us today."
This is the second HVAC program in the state, said Superintendent Dr. Ronald 'Scott' Fritz. There are two teachers and 160 students.
"I am very grateful to our legislature for helping secure the grant," said Dr. fritz. "I hope we can open more of these programs in the province."
A large workshop was unveiled with sparkling new equipment and a classroom.
Mr Nehrig later said, "We are excited. We are very excited to be able to offer this new opportunity to our students," adding, "There is such a much sought after field. It's a bit different from the others we do. It is a direct employment program – from high school to very high paying jobs that are in high demand."
Students take their core classes and electives throughout high school. The seven HVAC classes are considered electives, which would take seven years to complete, he said. Next year they hope to have another classroom and some of the students will be able to double the HVAC classes.
"They will be able to earn certifications to be employable after high school," said Mr Nehrig. "It's not an academy yet. We want to grow in it."
He said the program is in partnership with the UA Local 295 Plumbers & Pipefitters Joint Apprenticeship, meaning students in the program can work after graduation and improve their job skills.
Teachers Dan Arnold and Leland Wilbert prepare to bring their knowledge to the classroom.
Mr Wilbert said he has been in the business for nine years and has two years of training. He said that teaching was always his first thought of a profession, but that working with his hands seemed to be his calling at the time.
"It's going to change the lives of a lot of kids," he said of the program. "Not everyone goes to university. College is not for everyone. This program will shine a light and show children that bartering is not a second option. It is a valuable first option."
Students and family members are eager to get started.
Aidan Cook, 14, said he is interested in learning the trade and gaining experience. "I like solving things," he said.
His father, David Cook, added: "It's good timing. He's just coming in (freshman). "It's nice to see a new facility and new equipment. We need people to do this (kind of work)."
Mr. Nehrig said Pine Ridge also offers an academy for advanced manufacturing programs that recently created an item that went to the International Space Station, and a health academy, which is partnering with AdventHealth. In addition, courses are offered in a variety of career areas – culinary, cybersecurity, agriculture, childcare and digital media.